Chamber orchestra "Academy of Soloists"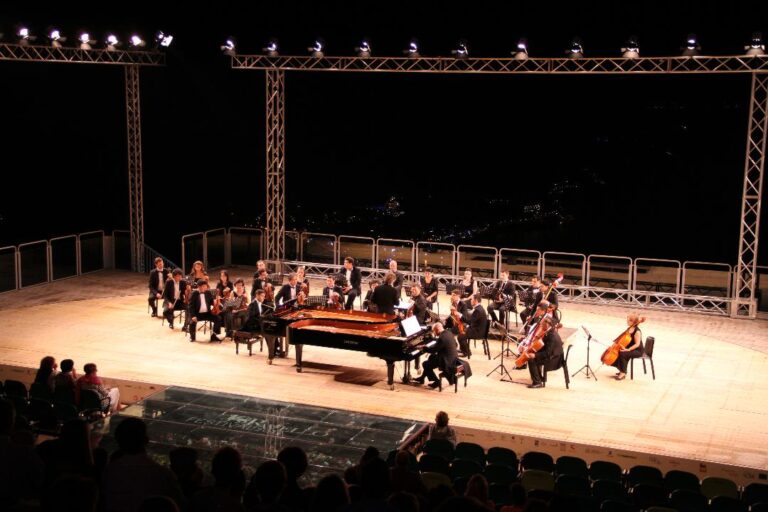 Marco Schiavo
and
Sergio Marchegiani
are now considered among most active Italian piano duets. They are highly appreciated by the audience and critics for musical personality, great expressiveness and naturalness, beauty of sound, intensity and overwhelming energy of their performances. At the same time as solo concert international activity, since 2006 they play together all over the world performing hundreds of concerts in the most prestigious venues and festivals. In 2014 Decca label published their first CD, completely dedicated to Franz Schubert which got amazing reviews from the critics.
Aiman Mussakhajayeva
is the outstanding violinist of modernity and one of the brightest  representatives of the violin school of Kazakhstan. She began to study violin at the Musicschool in Almaty, Kazakhstan and continued her studies at the Conservatory of Moscow. Mussakhajayeva performs with famous conductors and interpreteurs and gave concerts all over the world. She founded the National Chamber Orchestra "Academy of Soloists", for which she engaged the most brillant young musicians of Kazakhstan. She holds many significant titles and awards.
Gudni A. Emilsson
is Icelandic conductor who has won numerous national and international prizes. Emilsson has made guest appearances with major orchestras performing in several important musical festivals and concert halls, working with renewed soloists from all over the world. Since 1999 he has been the Artistic Director and Chief Conductor of the Tubingen Chamber Orchestra. After this he becames the Chief Conductor of several other orchestras – the Suk Chamber Orchestra and the Camerata Bohemica orchestra in Prague, the Thailand Philharmonic Orchestra in Bangkok etc.
State Chamber Orchestra "Academy of soloists"
is the leading musical collective of the Republic of Kazakhstan, created in 1991 on the initiative of Aiman Mussakhajayeva. The members are laureates of international competitions, who have brilliant virtuous technique, rich of color sound, sense of ensemble, and developing best world traditions of chamber playing. The orchestra performs compositions of different epochs and styles. Kazakhstan national music plays a big role in the creativity of the collective. The orchestra carries out active concert activity in the republic and abroad and is one of the most important promoters of Kazahstan music and tradition in the world. Program:
Edvard Grieg (1843-1907):
Holberg Suite
, op. 40
Praeludium (Allegro vivace)
Sarabande (Andante)
Gavotte (Allegretto)
Air (Andante religioso)
Rigaudon (Allegro con brio)
Leopold Koželuch (1747-1818):
Concerto
for piano 4 hands and orchestra
Allegro
Adagio
Rondo – Allegretto
Camille Saint-Saёns (1835-1921):
Introduction and Rondo Capriccioso
, op. 28, A minor
Pablo de Sarasate (1844-1908):
Gypsy Airs
, op. 20
Jules Massenet (1842-1912):
"Méditation"
from the opera "Thaïs"
Franz Waxman (1906-1967)/Georges Bizet (1838-1875):
Carmen fantasy
https://www.karti.com.mk/etickets/TicketList.aspx?pEventID=2060