Christos Grimpas -violoncello; George Emmanuel Lazaridis- piano, Greece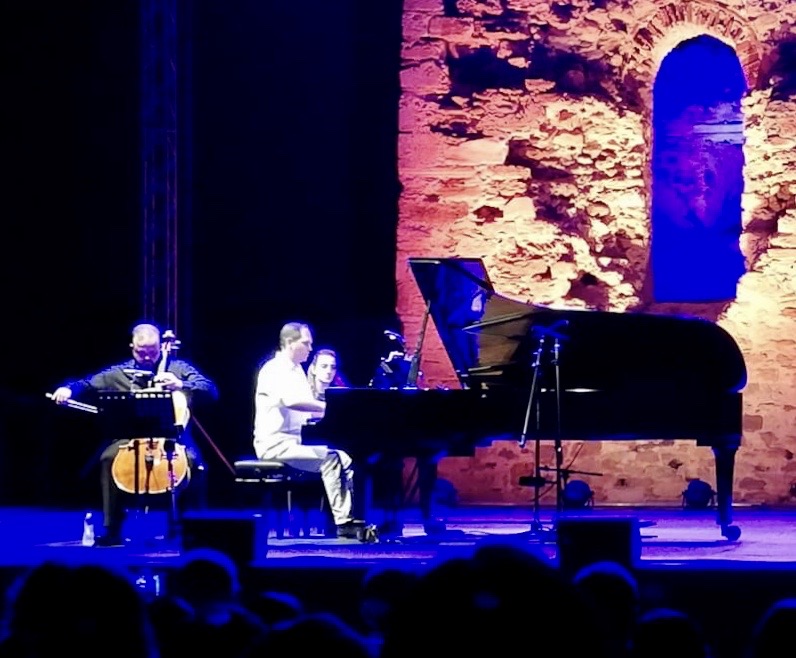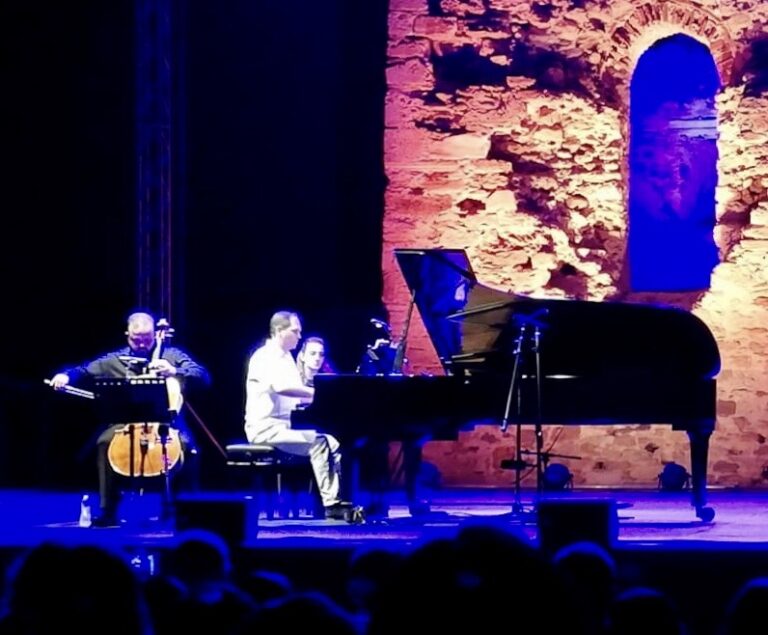 Rachmaninoff: Sonata for violoncello op. 19
-Lento – Allegro moderato -Allegro scherzando -Andante -Allegro mosso
Mussorgsky: Pictures at an exhibition (solo piano G.E. Lazaridis)
-Promenade I – The Gnome – Promenade II – The Old Castle -Promenade III -The Tuileries: Children's dispute after play -Bydlo -Promenade IV -Ballet of the unhatched chicks -Samuel Goldenberg and Schmuyle -Promenade V -The market at Limoges -Roman Catacombs – With the dead in a dead language -Baba Yaga: The Witch -The Heroes Gate at Kiev
Christos Grimpas -violoncello
Christos Grimpas studied at the State Conservatory of Thessaloniki and the Universität der Künste in Berlin, further receiving his post graduate music degree from the Folkwang Hochschule Essen. He was a member of the Rhineland Youth Orchestra, the International Youth Orchestra and the European Union Youth Orchestra. Awards include prizes (Pan-Hellenic Competition for Young Soloists 1997, International Chamber Music Competition of HELEXPO 1998) as well as merit scholarships (the "Alexandra Trianti" Trust and the "Alexandros Onasis" Foundation). He has performed as a soloist with the State Orchestra of Thessaloniki, the Municipal Orchestra of Thessaloniki, the Karlovy Vary Symphony Orchestra, the Teplice Philharmonic, the Harkovo Philarmonia, the Dnipno and Zaporizhia Philharmonic Orchestras and the Sofia Sinfonieta Orchestra. With the Greek Radio Symphonic Orchestra he has recorded the Martinu Concerto for violoncello in 2002 and the F. Gulda concerto for cello and big band in 2018. He has successfully participated in various educational projects. Since 2002 he is a regular member of the State Orchestra of Thessaloniki. He is a founding member of the formidable "Transcription Ensemble" with performances in events and venues such as the Tate Modern (London), Museo Reina Sofia (Madrid), Megaron (Athens), Sabanci Museum Istanbul etc.
George Emmanuel Lazaridis- piano
G.E. Lazaridis is a widely recognized multifarious personality, with 30 years of uninterrupted presence in the international music scene as a soloist, composer, educator and pioneer in the foundation and development of new cultural institutions. Mentored by Yonty Solomon, Alfred Brendel and Domna Evnouhidou, Lazaridis is a graduate of the Royal College (Chapell Medal 2000) and Trinity College of Music, in London. G.E. Lazaridis enjoys a flourishing international career that has taken him from USA and Mexico to Europe, Russia and the Middle East, in some of the most prestigious international music festivals such as the Chopin, Monterrei, Istanbul, Aix en Provence, and Swansea Festivals and in legendary venues such as Carnegie Hall, Royal Albert Hall, Musikverein, St. Petersburg Philharmonic. He has performed as soloist with the St Petersburg Philharmonic, Hamburg Philharmonic, Royal Philharmonic, Strasbourg Philharmonic, Warsaw Philharmonic, Brno Philharmonic, and French Radio Philharmonic Orchestra amongst many others, including all the Greek Symphony Orchestras. He studied composition with Edwin Roxborough, Christos Samaras and Daryl Runswick. He has mainly composed for solo piano, for various choral ensembles and for combinations of the two genres. Moreover, he has composed various song cycles as well as music for theatre, dance and multimedia productions. He has also composed a large scale oratorio for choir piano and symphony orchestra entitled "Deisis" and recently, he completed his piano concerto "From the Dead", commemorating 100 years from the end of World War 1. E. Lazaridis is also a co-founder of new international cultural institutions and ensembles such as the ADAP Association of Artists for Peace, the Music-Village International Festival and the "Kyklos" Ensemble. Between 2011 and 2013, he served as music director at the Demetria International Festival. From 2010 to 2019, he served as Artistic Director of the Thessaloniki Concert Halls Organization, where he led the foundation of new educational institutions such as the International Children Choirs Festival and "MOYSA" – an el sistema inspired youth symphony orchestra of 100 talented Greek musicians, aged 8 to 25 years old. He is currently director and full-time professor at the State Conservatory of Greece, in Thessaloniki.
https://www.kupikartizase.com/Events/hristosgrimpas_