Denis Shapovalov – violoncello Alexander Vershinin – piano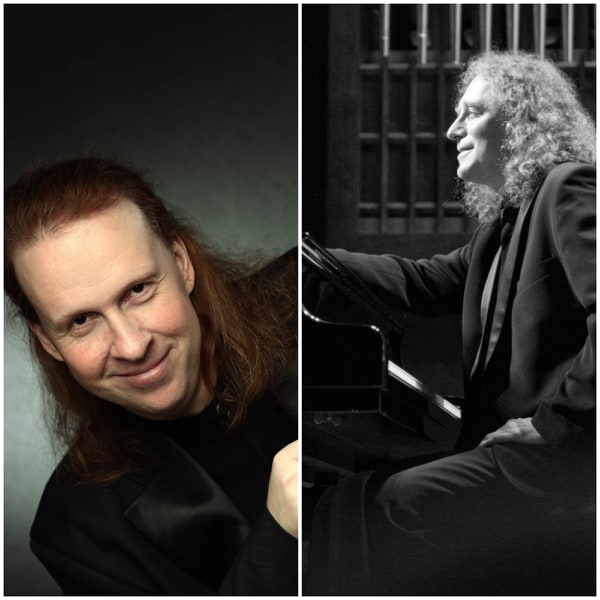 DENIS SHAPOVALOV – violoncello
"Brilliant talent! He can be proud of his gift before all the world." – with these words Shapovalov was characterized by famous Mstislav Rostropovich. Denis Shapovalov is set apart from the majority of gifted cellists with his fine and penetrating comprehension of the works he performs, his razor-sharp technique, and his incredibly expressive and lofty interpretation.  Shapovalov won recognition for his exceptional musical gift at the XI International Tchaikovsky Competition in 1998, taking the 1st prize and the gold medal as the unanimous choice of the jury. As one of the awards he was invited to the III World Cello Congress – for his American debut, he gave a successful performance at the Congress in Baltimore in 2000.  In 2000, Shapovalov finished the post-graduate course of the Moscow State Conservatory, where he studied under Professor Natalia Shakhovskaya. And for 11 years (2001-2012) he was a cello professor of the Moscow Conservatory.  Maestro Rostropovich distinguished Shapovalov among all Russian cellists and invited him to perform together with different orchestras in Russia, Great Britain and USA, as well as to participate in Rostropovich's festivals in Azerbaijan and France. Shapovalov has performed in the concert series celebrating Rostropovich's 75th birthday in New York and London along with outstanding musicians – M.Vengerov, E.Kissin, M.Argerich, Y.Bashmet.  The young cellist has participated in numerous international festivals in Russia, France, Italy, Germany, Austria, USA, Japan, and China. In addition, Shapovalov collaborates with Tchaikovsky Symphony Orchestra, the Academic Symphony Orchestra of the St-Petersburg Philharmony, the chamber orchestra "Moscow Virtuosi", the chamber orchestra "Moscow Soloists", the Bayerische Rundfunk Orchestra, the Netherlands Philharmonic Orchestra, the London Philharmonic Orchestra, the London Symphony Orchestra, the Baltimore Chamber Orchestra, Tokyo Metropolitan Symphony Orchestra, the Lithuanian State Symphony Orchestra and chamber orchestra, Bratislava Symphony Orchestrа , Macao Symphony Orchestra. Shapovalov works under such distinguished conductors as Lorin Maazel, Jukka-Pekka Saraste, Vladimir Fedosseev, Yutaka Sado, Yoel Levi, Andrew Litton, Christian Badea, Vladimir Spivakov, Yuri Bashmet, Valery Poliansky, Thomas Sanderling, Gianadrea Noseda etc. Shapovalov maintains a busy career as a soloist, but also conducts and composes. His works have been received with praise by the music critics and the audience.
Alexander Vershinin-piano
Russian pianist Alexander Vershinin was born in 1965 in Moscow. He graduated and earned his post graduate diploma with honors from the Moscow Conservatory following which he was appointed to a professorship. During the 25 years he holds two university chairs. Starting from 2009 he is also a professor in Sakuyo University in Japan. As a young pianist he was the laureate (Second prize) of the  First International Competition for Pianists in Memory of Vladimir Horowitz and a recipient of the special award for "Best Russian music interpretation",  he was also award winner (diploma) of XI Gina Bachauer International Piano Competition (Salt Lake City). His repertoire includes pieces of music of different genres: from classical music pieces to jazz adaptations and improvisations. Vershinin is a dedicated interpreter of the works by Alexander Skryabin he performs practically all the latest pieces of music written by the composer – five latest sonatas and pianoforte part of symphonic poem "Prometheus: the poem of fire". Starting from 2001 Vershinin is a member of the Skryabin Foundation. With teaching as a primary occupation, he holds master classes  in Russia and abroad along with performing activity – he takes part in many international festivals and tours the world playing in: France, Japan, Germany, USA, South Korea etc. Alexander Vershinin is the founder and artistic director of many new ingenious projects:  crossover World Fusion Project "India in Blue", "Classic & JAZZ", classical series "Historic concerts". His work "The Fairytales Suite" for voice, saxophone, jazz piano trio and string orchestra undoubtedly draws attention and gains recognition from the general public as well as from music society.
https://www.kupikartizase.com/Events/denis_shapovalov_2019