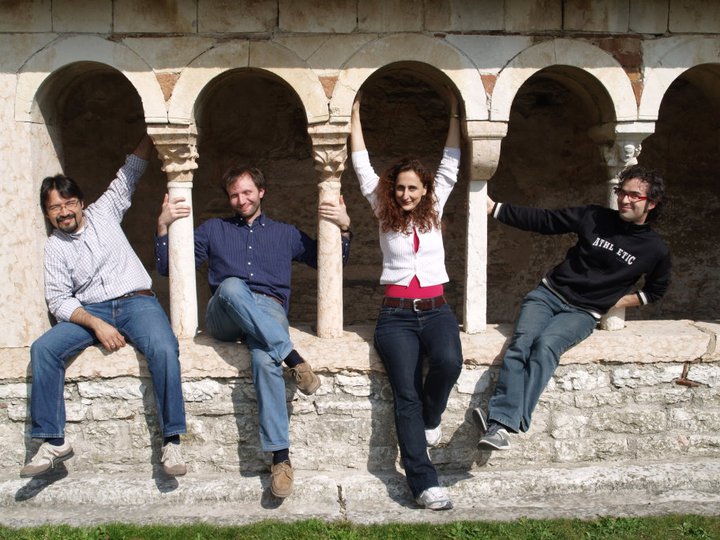 Daniela Nuzzoli- mezzosoprano/violin
Klodiana Babo- baroque violin
Francesco Alessandro De Felice-violoncello
Giovannimaria Perrucci-harpsichord
Raul Hernandez-tenor
Ensemble Dorico
is a group that plays on historical instruments using historical practices. It is composed of musicians who have played with the most important international ancient music groups (Giardino Armonico, Europa Galante, Talents Lyriques, Concert d'astreée, Accademia Bizantina, etc). They are dedicated to the enhancement and rediscovery of the ancient repertoire and have played at various important national and international festivals.
Daniela Nuzzoli- mezzo soprano and violin
A unique musician, Daniela Nuzzoli got her Master Degree in Violin at Conservatorio Statale di Musica in Verona and in Singing and Lieder and Oratorium at the Conservatorio Statale di Musica "L. Campiani" in Mantova. She specialized in Lied and Oratorio at the Accademia Filarmonica in Bologna and perfected her lieder repertoire with professors in Germany and Austria. Her career as a singer takes to some of the most important opera stages including the Festival of Torre del Lago, the theaters in Salzburg, Bologna, Verona and Milan. On tour she has sung in China and the USA, performing alongside singers such as Luca Pisaroni, Gregory Kunde, and Raul Hernandez under the direction of such conductors as Daniele Ferrari, Charles Olivieri Munroe, Enrique Mazzola, Andrea Solinas and many more. Her repertoire equally covers the roles of the early operas (Iphigenie en Tauride at Radio France) as well as roles in Mozart, Verdi and Puccini operas.  As a concert performer she has appears at several important national and International Festivals including Ravenna Music, Verdi's Chamber Season in Milan, Reial Acadèmia de Belles Arts in Barcelona, ​​"Opera under the Stars" in Palm Springs, California (USA), ECC "El Camino" in Los Angeles (USA), has been a regular guest for several years of the "Festival of Opera & Arts" of Palm Desert (USA). In France, she sang in various recitals dedicated to 20th century Italian music, accompanied by the Chamber Orchestra of Toulouse (France) conducted by Maestro Gilles Colliard. Nuzzoli has recorded several CD's for the Italian label Tactus  including a world premiere recording of Giuseppe Giordani's Offertories for voice and organ in  and CD of Romanze da Camera by Verdi for voice and historical piano.  As a singer and violinist she recorded a double CD of Sacred Works by the italian composer Pellegrino Santucci, CD of compositions for violin and harp, voice and harp by Giuseppe Millico and a CD for voice and organ (world premiere) with Sacred works from the masters of the Santa Casa of Loreto in the 18
th
and 19
th
centuries. In June 2019 the Japanese Label DA VINCI realeased the complete art songs by Fernando J. Obradors (wold premiere) for voice and historical piano. As a violinist she specialized baroque violin with Enrico Gatti at the Scuola Civica of Milan, with M. Kramer at the International Courses of Andorra, Enrico Onofri, Elisabeth Wallfisch at the Royal Conservatory of The Hague. She was part of the European Baroque Orchestra (EUBO). She performs as a soloist and chamber music in Italy and abroad with some of the most famous ancient music groups and conductors.  She was Concert Master of the ensemble "Le Musiche Nove", performing with the mezzo-soprano Cecilia Bartoli in the most important European and international Halls. As Concert Master, he collaborated with the counter-tenor Philippe Jarrousky and also recorded for several Labels including Decca, Deutsche Gramophon, Harmonia Mundi, Naïve, Dynamic, Emi-Virgin and Tactus. She is the founder and conductor of the Dorico Ensemble with whom she performs singing and playing.
Klodiana Babo – Baroque violin
Klodiana Babo began studying the violin at the age of six in Tirana. She earned her diploma as a violinist with at the age of 18 continuing to study Academy of Arts in Tirana before moving to Italy, to continue her studies at the "G. Rossini" Conservatory in Pesaro. She received her diploma in violin with merit, and was given a study award by the Rossini Foundation as one of the best students. She dedicates herself to "Baroque" music, with philological studies, and has earned her Doctorate in Baroque violin at the B. Maderna Conservatory in Cesena with Maestro Luca Giardini. She has collaborated with numerous historic music groups, as a solo violinist and second violinist, working with renowned conductors.  Concerts take her across Europe at prestigious concerts and festivals, such as the "Ouder Museik" festival in Utrecht, the "Concentus Moraviae" festival in Brnò, the "Innsbrucker festwochen der alten musik" festival in Innsbruck and many more. She has recorded for several record companies, such as Glossa, Clavis, Tactus … She is deeply interested in violin didactics, and she has dedicated herself for many years to teaching the instrument and examining in depth technical-didactical questions.
Francesco Alessandro de Felice-violoncello
Francesco Alessandro de Felice studied at the Pesaro Conservatory "G.Rossini" with M° S. Amadori, W.Di Stefano and M.Vangi and he graduated with honours in 2005 at Cesena Conservatory "B.Maderna". He participated to the Orchestra Education Course "Progetto Palcoscenico" in Pescara supported by the European Community and with its orchestra he carried on an intense activity as first cello. He collaborated with soloists such as Massimo Quarta, Enrico Dindo, Renato Bruson, and he pursued his studies with Luigi Piovano, obtaining the title of "Orchestra Member" in 2005. From May 2006 he collaborates, as First Cello and soloist, with Pesaro Symphony Orchestra "G.Rossini" that led him to perform with soloists such as Felix Ayo, Josè Carreras, Carmine Lauri, Tim Hugg, Alain Menier, with conductors such as Zubin Mehta, Micheal Laus, Daniele Agiman in Italy, Japan, China, Malta etc. He nurtures a special artistic interest in chamber music: since 2010 he is the cellist of TRIO DMITRIJ and from 2010 to 2012 he continued his preparation with the TRIO DI TRIESTE at the Scuola Superiore Internazionale di Musica da Camera del Trio di Trieste in Duino. With Trio Dmitrij he graduated with full marks and laude at Accademia Nazionale di Santa Cecilia with M° Carlo Fabiano. Regularly gives Cello and Chamber Music Masterclasses at the Conservatorio Profesional de Musica "F.Guerrero" in Seville (Spain).
Giovannimaria Perrucci-harpsichord
Giovannimaria Perrucci completed his studies in organ, harpsichord, composition and choral conducting at the Conservatoire "Gioachino Rossini" in Pesaro. He continued his studies in France with Xavier Darasse at the Conservatoire National Superieur in Lyon (Organ) and with Jan-Willem Jansen at the Conservatoire National de Region in Toulouse (Harpsichord), from where he graduated with "Première Prix". He won several scholarships and took part in study seminars in many Countries on the European organ repertoire. As a soloist as well as a member of leading ensembles, Giovannimaria Perrucci frequently appears at festivals and concert venues throughout Europe and Japan. He has made radio and Cd recordings and is involved in conserving, studying and restoring historic Organs. He has published texts about historic organs of his region and is an active teacher at the "Liceo Musicale" in Pesaro (Theory, Analysis) and at the "Istituto Diocesano di Musica sacra" in Fano (Organ).
Raul Hernandez –tenor
Possessing a voice of uncommon lyric beauty, Mexican tenor Raúl Hernández is fast becoming recognized as one of the most gifted interpreters of the Bel Canto repertoire. He has recently debuted at the Liceu of Barcelona and the Metropolitan Opera House (MET) in the role of
Duke of Mantua
(Rigoletto) and
Don Ottavio
(Don Giovanni) at the MET. His performances of the leading tenor roles take him across the USA and Canada as well as in Europe, Mexico, Japan at important venues such as New York City Opera, Seattle Opera, Teatro Real de Madrid, Bloshoi Opera, Teatro Des Belles Artes, Zurich opera, Munich opera etc. He has sung opposite Edita Gruberova in a production at Zurich opera and on tour in Munchen, Stuttgart and Dortmund and Dresden. Raul Hernández makes an easy transition from the operatic stage to the concert stage, and has delivered moving performances of Mozart's "Requiem," and "Messa Brevis," Handel's "Messiah," Rossini's "Stabat Mater," Beethoven's Ninth Symphony, Verdi's "Requiem," Orff's "Carmina Burana", "Catulli Carmina," and many others.  As a recitalist, Mr. Hernandez is known especially for his soulful renditions of the music of the Latin American composers. In 2015 Tactus Label released a monographic CD featuring Giuseppe Verdi' songs, in2017 a double CD of Sacred Works by the Italian composer Pellegrino Santucci. He was singing teacher at the Conservatory of Music "A. Buzzolla" in Adria (Italy) and currently he is a singing professor at the Conservatory of Music "Fausto Torrefranca" in Vibo Valentia (Italy).
https://www.kupikartizase.com/Events/ansambl_doracio_2019