Gala opening of the Ohrid Summer Festival 2020; Vocal beauty – in the footsteps of Ana Lipsa Tofovik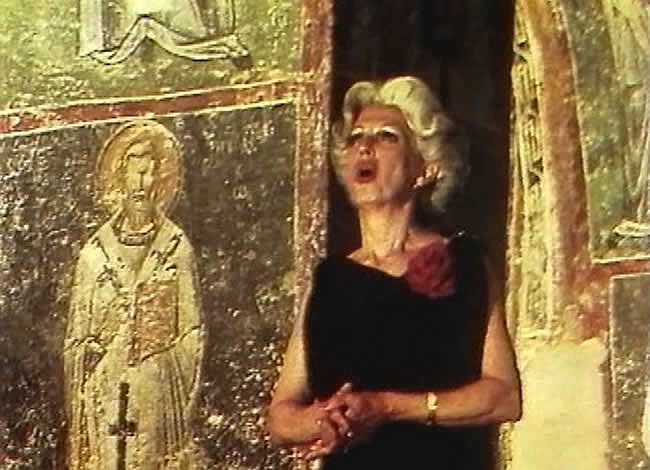 Marija Jelic- soprano
Marija Jelic, started studying flute and singing in her home town Belgrade, and while she graduated from the Faculty of Electrical engineering at University she continued to pursue her passion for singing and earned her MA in opera singing. In 2017 Marija joined the opera studio of the National Theatre in Belgrade and started her stage career performing such roles as Contessa in Le Nozze di Figaro, Mimi in La Boheme, the title role in Aida, Micaela in Carmen, Liu in Turandot, Nedda in I Pagliacci , Desdemona in Verdi's Otello and Pamina in The Magic Flute. She regularly performs on the stages in Belgrade and Novi Sad, in recital and in concert with orchestra. Her international appearances have taken her to Germany, Austria, Russia, China, and Croatia and in March 2021 she is due to make her US concert debut at Carnegie Hall.
Amanda Stojovic-mezzosoprano 
Amanda Stojović is a mezzosoprano born in Herceg-Novi (Montenegro). After completing her basic education in Belgrade, she continued to study in Ljubljana where she completed her post graduate specialisation and her master degree on the Ljubljana Music Academy. She was the winner of the 2008 Yamaha Music Foundation competition and a finalist of the singing competition in Spoleto.Her repertoire includes in equal parts opera and concert from different eras and styles. She appeared on the opera stages of Belgrade, Ljubljana, Maribor, Rijeka, Zagreb, and also Tokyo, Osaka, Fukuoka and all the main cities of Japan, working with conductors rs such as Francesco Rosa, Claude Schnitzler, Tibor Boganyi, Ville Matwejeff, Jaroslav Kyzlink, Simon Krečič, UrošLajović,  Gianluca Martinenghi… She collaborates with world-known artists such as DušanBogdanović, Egon Mihajlović, the Montenegrin guitar duo and the ensemble" Renaissance". In 2014 she debuted in the demanding role of Amneris during the tour of the Opera of Maribor in Japan, brushing shoulders with world-known artists such as Fiorenza Cedolins and Piero Giuliacci. She was Amneris at the summer stage in Opatija with the opera Aida produced by the Opera of Rijeka receiving great reviews. Stojovic has perfrmed many roles of the core repertoire for mezzo soprano including: Charlotte (Werther), Hansel (Hansel und Gretel), Cornelia (GiulioCesare), Fricka(DasRheingold), Amneris (Aida), Dinah (Trouble in Tahiti), La Zia Principessa (Suor Angelica), Mercedes (Carmen) and many more.  On the concert stage she has performed with the Montenegrin Symphonic Orchestra, the Orchestra of the Trieste Opera, the Orchestra of the Ljubljana Opera, the Slovenian Philharmonic Orchestra, and Symphony Orchestra of Albanian RTV etc.  She has recorded for Radio Slovenia, Montenegro State Television and a voice-guitar CD as the member of the Amarilli Duo.
Dario di Vietri- tenor
Dario di Vietri made his professional debut in 2009/2010 as Pinkerton in Madama Butterfly for Operalombardia. As the winner of the competition "Una voce per l'Arena" tenor Dario Di Vietri made his debut at the Arena di Verona as Calaf in Turandot conducted by D. Oren directed by F. Zeffirelli in the summer 2014. This led to many engagements throughout Italy and worldwide: Arena di Verona, Opera di Roma, San Carlo of Naples, Petruzzelli of Bari, Verdi of Salerno, Opera de Oviedo, Greek National Opera, Maggio Fiorentino, Seoul Arts Center, Regio of Parma, Belgrade National Theatre, Bucharest National Opera, Ankara State Opera where he is singing protagonist roles like Radames in Aida, Riccardo in Un Ballo in Maschera, Calaf in Turandot, Cavaradossi in Tosca, Pinkerton in Madama Butterfly, Des Grieux in Manon Lescaut, Samson in Samson et Dalila, Don José in Carmen, Turiddu in Cavalleria Rusticana, Manrico in Trovatore. Past seasons have seen Mr Di Vietri perform title roles in Romania, Serbia, South Korea, Bulgaria, Egypt, Poland, China, Greece, Germany, Taiwan etc.  He regularly performs at important festivals in Italy such as Tore del Lago Festival, and he is frequently a soloist in gala operatic concerts with various symphonic orchestras. He has performed with some of the most acclaimed conductors of our time including Daniel Oren, S. Alapont, R. Palumbo, C. Orbelian and many more. In season 2020/2021 he will debut Maurizio di Sassonia in Adriana Lecouvreur at Petruzzelli di Bari where he will also sing Radames conducted by R. Palumbo, will be Calaf in Turandot at National Kaohsiung Center for the Art of Taiwan, will be Renato Des Grieux and Teatro del Giglio of Lucca and Tuscany Theatres. Born in Bari, Di Vietri studied at Conservatory of Milan under the guidance of Vittorio Terranova, at the School of Opera of Teatro Comunale of Bologna and continued his education famous artists such as Luciano Pavarotti, Katia Ricciarelli, Bonaldo Giaiotti and Bruna Baglioni.
Ivan Tomashev- bass
Ivan Tomashev was born in Belgrade, where he starts his musical education.  After winning first place at young opera singers competition for the whole ex-Yugoslavia, he continues with advanced vocal trainings in Novi Sad, Zagreb, Rome and Vienna. He has attended numerous training courses in Vienna with Olivera Miljakovic, prima donna of Vienna State Opera. His soloist career starts in 1986, first at the Opera in Novi Sad and afterwards in the Opera of the Croatian National Theatre in Zagreb. Since 1989 he has been the soloist and the Principal Singer of the Opera of the National Theatre in Belgrade. Besides his successful performances in Belgrade, he has often been engaged in different opera productions worldwide. He has performed in more than four hundred productions in Macedonia, Romania, Bulgaria, Croatia, Hungary, Slovenia, Austria, Switzerland, Czech Republic, Germany, France, Denmark, Malta, Italy, the USA, Japan and Russia. His first international appearance was in 1998 by debut in the
Aida,
on the Summer Opera Festival in Sankt Margarethen in Austria.
Milivoje Veljic- piano
Milivoje Veljic graduated from the Faculty of Music in Belgrade in 2007 in the class of Professor Lidija Stanković. He is the recipient of the Faculty's award for the best graduate of the Piano Department, while the European Movement in Serbia ranked him among 200 best students in Serbia. He earned his Phd in Chamber music from the same Faculty with a thesis on Rachmaninoff music for piano duo. He is employed at the Faculty of music in Belgrade as an artistic associate of the Singing department, working closely with renowned voice pedagogues Nikola Kitanovski and Biserka Cvejic. He performs with a number of established singers in Serbia including Nikola Kitanovski, Sanja Kerkez, Katarina Jovanovic, Jasmina Trumbetas, Dejan Maksimovic, Boris Trajanov, Ivan Tomashev and many more. His concerts have been recorded by the Serbian RTV.  He was the official pianist of the 43
rd
international competition of Jeunesses Musicales Belgrade, he was also accompanist to the participants of the competitions for young singers "Lazar Jovanovic" and the international competition "Nikola Cvejic" in Ruma. He is the founder and member of the duo Shake & Spear that performs Serbian music, and is using a unique "Shakespearean" way to present the works through rhyme and poetry written by Milivoje Veljic himsef.