Petri Çeku- guitar (Kosovo/Croatia)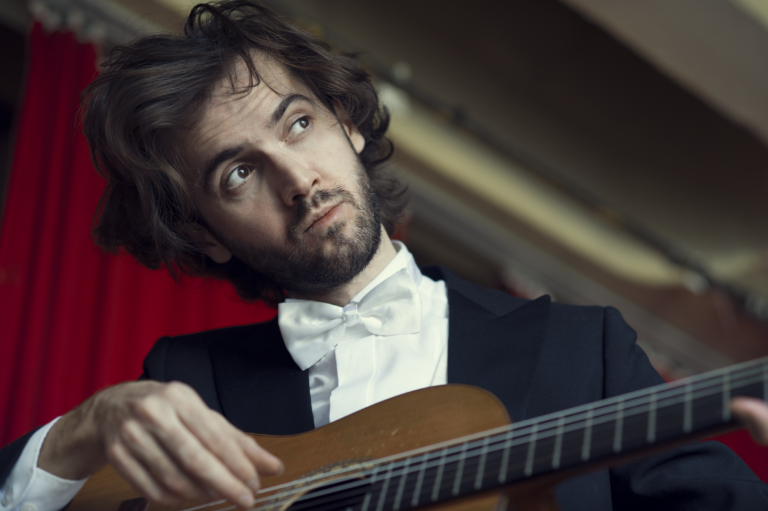 Programme:
S. Bach (Arranged by Valter Dešpalj): Cello Suite No. 2 BWV 1008
-Prélude -Allemande -Courante -Sarabande -Menuet I, II -Gigue
A. Mozart (Arranged by Petrit Çeku): Fantasy in E minor*, K. 397
V. Beethoven (Arranged by Petrit Çeku): Sonata facile in C major*, Op. 49, No. 1
– Allegro, ma non troppo -Tempo di Menuetto
V. Beethoven (Arranged by Francisco Tárrega):
-Adagio cantabile (From Sonata in C minor, op. 13 "Pathetique") -intermission-
Listeš: Omaggio a Marko Ruždjak Op. 17
Schubert: 6 Songs
(Arranged by Johann Kaspar Mertz) -Lob der Thränen -Liebesbothschaft -Aufenthalt -Ständchen -Die Post -Das Fischermädschen
Petrit Çeku's exquisite sensibility and expressiveness have attracted and engaged audiences worldwide. He has performed many recitals throughout the world and was a soloist with major symphonic orchestras such as Baltimore Symphony, Czech Chamber Philharmonic, Daejeon Philharmonic, State Hermitage Orchestra of St. Petersburg, Pannon Philharmonic and Zagreb Philharmonic. He also appears regularly with the famed string ensemble Zagreb Soloists and is a founding member of Guitar Trio Elogio, established in 2008. Hailed by guitar critic Colin Cooper as "a soloist of the highest ability", Çeku is the first prize winner of many international guitar competitions, including the most prestigious ones like Parkening (Malibu, USA), Schadt (Allentown, USA), Biasini and Pittaluga in Italy. Born in 1985 in Prizren, Kosovo, Çeku took his first guitar lessons with Luan Sapunxhiu. In 2002 he moved to Zagreb, Croatia, after receiving an invitation to study with Xhevdet Sahatxhija. In 2008, Çeku graduated from the Zagreb Academy of Music, in the renowned class of Darko Petrinjak. He then went on to study with the great master, Manuel Barrueco, at the Peabody Conservatory in Baltimore USA, where he completed his studies in 2013. Since October 2019, Petrit Çeku teaches Chamber Music for Guitar, a special graduate study dedicated to chamber music at University of Music and Performing Arts Graz in Austria. Çeku's first CD was released in 2008 by Naxos. In May 2015 the Spanish label Eudora issued his recording of all six Bach Cello Suites, arranged by Valter Dešpalj.