"Ataraxia" Ljupcho Mirkovski- conductor, composer; Boban Mirkovski-piano, Macedonia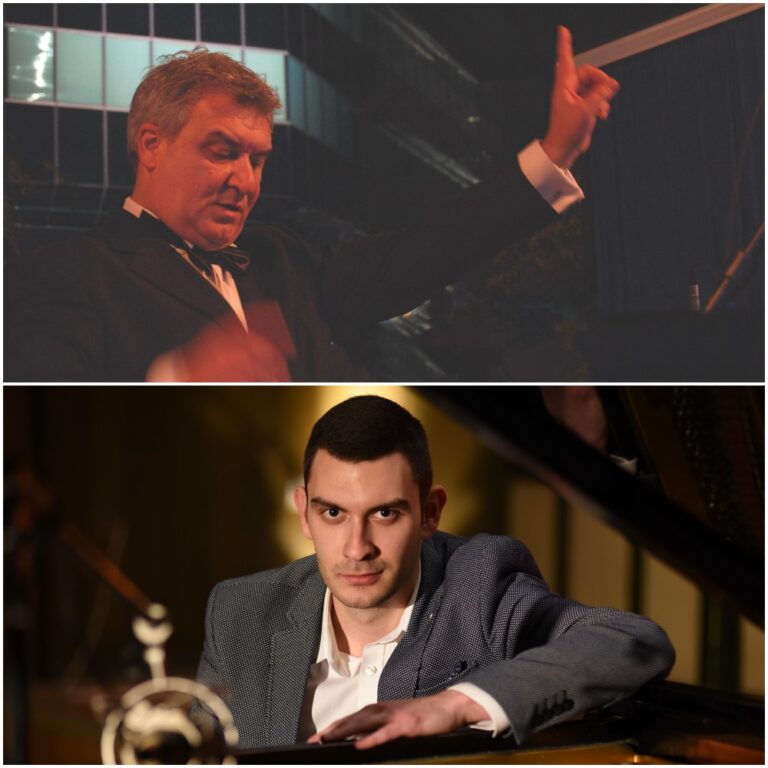 Programme:
Gershwin: Rhapsody in blue
Lj. Mirkovski: Ataraxia- pop symphony for piano and orchestra in four movements
Ljupcho Mirkovski- conductor, composer
Ljupcho Mirkovski starts his music education at the MBUC "Ilija Nikolovski – Luj" in Skopje, continuing to graduate from the instrumental department of the Faculty of Music.  His first engagement comes in the title role of the Sammy in the children's opera "The Little Sweep" at the Macedonian Opera.  His popular music debut at the Skopje festival is in 1971 with the song "Harlequin" which becomes his stage name. His first composition is performed at the "Omladina" festival in Subotica in 1974 and he wrote his first small orchestra arrangement in 1977. In his youth, Ljupcho Mirkovski was a member of several bands that appeared in festivals such as the Skopje Rock Evenings, the Youth festival, "Opatija" Festival, Skopje Festival and the first Skopje Jazz Festival in 1982.  He starts his professional carrier as the principal trumpet of the Macedonian TV popular music orchestra, where he still works today. In the years he has performed with this orchestra as a trumpet player, composer and conductor. His authorship has led to numerous collaboration with renowned popular music singers and musicians. As a composer he has made music for theatre, TV series and film.  Also his music is featured on over 200 TV jingles and commercials.  The majority of his music is popular music, music for children and folk and instrumental music that has earned him many prizes and accolades as an author at various domestic and foreign festivals. He is featured on two instrumental albums published by Mood spectrum Music Publishers in London. During his career he has been director on several music festivals such as Makfest, he was the artistic director of the National Eurovision song contest, the Children's Eurovision, he was the director of the Music Production of MRTV and chief of the Eurovision song contest national delegation. He currently works as the conductor of the Big Band and Festival orchestra of MRTV, and also collaborates with the Bagi Big Band.
Boban Mirkovski-piano
Boban Mirkovski was born in 1991 in Skopje and completed his primary and secondary music education at the MBUC "Ilija Nikolovski-Luj" in the piano class of prof. Danica Stojanova. He graduates from the Faculty of Music in Skopje in the class of prof. Simon Trpcheski and in 2015 he earns his MA in piano performance under the mentorship of prof. Aleksandar Serdar (Serbia). He has attended master classes with Z. Zaharieva, J. Mihailovic, F. Turisini, A. Leimoni, B. Romanov etc.. He has received numerous prizes from state and international competitions including two first prizes and laureate at the "Ars Kosova" competition in Prishtina, first prize at the "Davorin Jenko" competition in Belgrade, third prize and prize for most virtuoso performance at the competition "Music and the Earth" in Sofia. He has performed as a soloist with the Macedonian Philharmonic, an in recital he has performed in San Daniele (Italy), Boskovice (Czech Republic), Washington DC (USA) as well as in many cities in his home country. He is currently working as professor of piano at MBUC "Ilija NIkolovski-Luj".