Philharmonia Quartet, Macedonia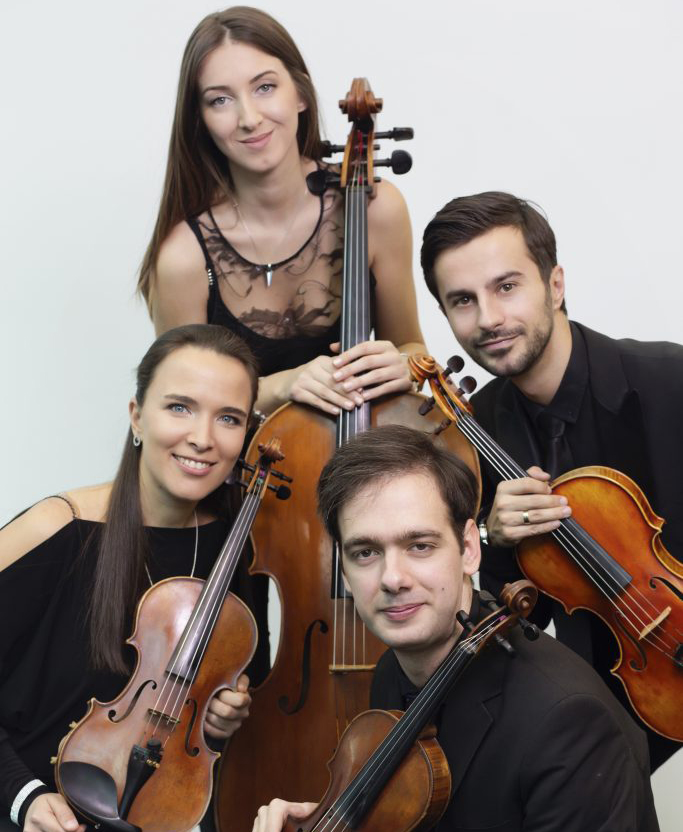 Тhe string quartet of the Macedonian Philharmonic is created as a result of the need for more string chamber music on the Macedonian classical scene, the string quartet as the most complex form for interpretation, as well as the need to hear the greatest classical works for this ensemble. It is formed by the younger members of the orchestra of the Macedonian Philharmonic. With great support from the leadership of the institution and the director Viktor Ilievski,
"Quartet Philharmonic"
started to work in October 2017, and only two months later already has held its first concert. Since then, the activity of this quartet has started growing, and in these several months the ensemble has already collaborated with famous conductors and prominent artists in chamber music.
Ana Kondratenko
(first violin) starts her education in her native Russia, and graduated from the Higher Music School in Cologne, in the class of world famous violinist Viktor Tretyakov. As a soloist and concert-master is quite active in Macedonia, but also in Russia and a number of other countries in Europe, America and Asia.
Bojan Ilkoski
(second violin) graduated from the Faculty of Music in Skopje, in the class of prof. Oleg Kondratenko. He often performs as a chamber musician, a field where he collaborates with world renowned artists. His active performance is carried out beyond the borders of Macedonia.
Bojan Taleski
(viola) first starts playing the violin, and later determines the viola instrument. He graduated from the Faculty of Music in Skopje, in the class of prof. Frosina Balova. He is a frequent guest at the festivals in Macedonia, but also outside of the country. He received awards at several competitions in Macedonia and Bulgaria.
Marija Mihajlovska
(cello) graduated from the Faculty of Music in Skopje with the highest grade Cum Laude, in the class of prof. Zhivko Firfov. In 2015, she completed her master studies at the same institution in the class of renowned Czech cellist Mikael Kanka. She is also a participant in several master-courses led by eminent musicians. Program:
Pyotr Ilyich Tchaikovsky (1840-1893):
String quartet
no. 1, op. 11
Moderato e semplice
Andante cantabile
Allegro non tanto e con fuoco
Allegro giusto
Dmitri Shostakovich (1906-1975):
String Quartet
no. 8, op. 110
Largo
Allegro molto
Allegretto
Largo
Largo
https://www.karti.com.mk/etickets/TicketList.aspx?pEventID=2025