Premiere of the theatre play THE COLONEL BIRD; By Hristo Bojchev; Directed by: Andrej Cvetanovski; NI Theatre Gostivar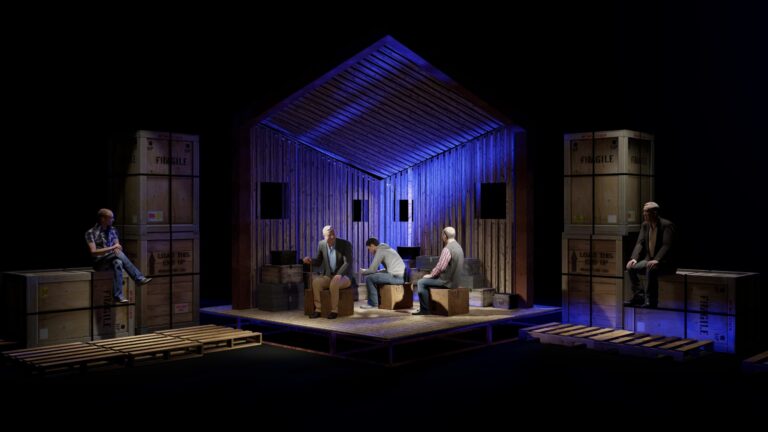 "The Colonel Bird" is Hristo Bojchev's most successful text written in 1997 and awarded with one of the most prestigious awards in Europe given by the British Council. The play revolves around a group of mentally ill people who are institutionalized, and one day by mistake receive humanitarian aid that was meant to go to a crisis region. Encouraged by the mistaken shipment, they organize themselves to go to Strasbourg and present their problem. In this time of migration crisis and crossing of borders, this text can get a new context and at the same time present the Balkans as an eternal candidate to reach Europe. "The Colonel Bird" is a play about different people that use their differences and excitement for new things to captivate the audience. Their dedication should teach us how important it is to believe and to exist in today's world, no matter how difficult that might be. The aim of the play should be understanding them, and with that newly created understanding maybe we, as people will become better. Their insanity is only a way to believe in something. Maybe this idea is one of utopia and idealism, but that is also the purpose of theatre. Facing a pandemic, the theatre is looking for new ways to function amidst the plethora of new rules and regulations that change daily. We try hard through all those rules to create a warm story and use the process of creation as an experiment and make quality even with all the rules imposed.
Andrej Cvetanovski
Andrej Cvetanovski's directing opus is mainly concentrated on the classics and the local, Macedonian authors. His style is visual and well thought through, always with a new reading of the classical texts. He studied at ESRA Paris-Skopje-New York and graduated in 2010 with a staging of "Salieri" based on Peter Schaffer's "Amadeus". He earned his MA in 2018 with a performance of "Midsummer night's dream" by Shakespeare. After his graduation, he was a teaching assistant for the subjects: theatre directing and acting, and later assisted prof. Dejan Projkovski. In 2013 he was appointed to be Artistic director of the Theatre of Comedy in Skopje, a post he held for 4 years until 2017. During this time the Theatre of Comedy was established as one of Macedonia most versatile venues, with a production that resulted in sell-out performances. Cvetanovski has directed 20 plays, different in style and aesthetic, but similar in their attempts to accentuate the visual component and offer a new reading of well-known plays. His works have been performed at festivals in the country and abroad in Serbia, Montenegro, Bulgaria, Albania and Russia and have been praised by the critics and well received by audiences.
Roles:
Behreda Resit
Driton Ghazami
Kujtime Ahmeti
Marko Dojoski
Ayse Useini
Berat Mahmuti
Arian Ejupi
Elizabeta Klincarevska Mladenovska
Gjorgji Neskoski
Marija Kondovska

Set design:Sergej Svetozarev Costume design: Sergej Svetozarev Music by: Dimitar Andonovski