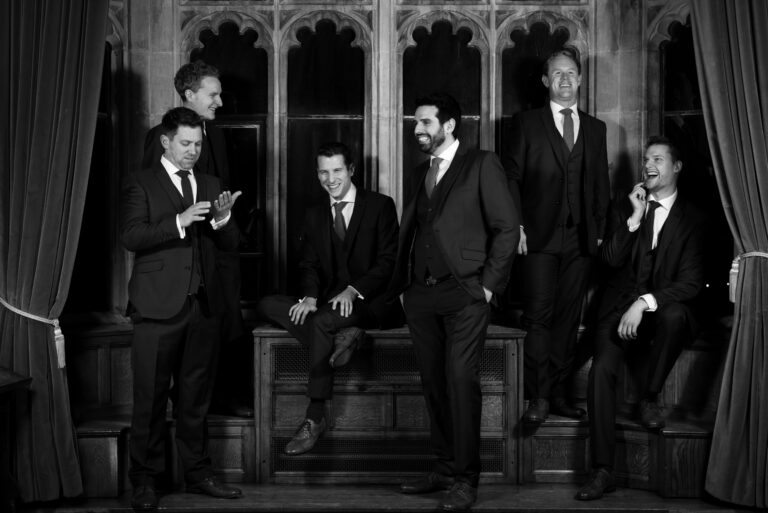 Based at Windsor Castle, the members of
The Queen's Six
make up half of the Lay Clerks of St George's Chapel, whose homes lie within the Castle walls. This rare privilege demands the highest musical standards, as they sing regularly for the Royal family at both private and state occasions. Most significantly however, it is the familiarity of living and singing together in Chapel every day that lends this group its distinctive closeness and blend, as well as an irresistible informality and charm. Individually, members of The Queen's Six have appeared in many of the most prestigious vocal ensembles on the circuit, including The Sixteen, The Tallis Scholars and Tenebrae. Their repertoire extends far beyond the reach of the choir stalls: from austere early chant, florid Renaissance polyphony, lewd madrigals and haunting folk songs to upbeat Jazz and Pop. Program:
Wiliam Byrd:
O Lord, make thy servant Elizabeth our Queen
Thomas Morley:
Arise, awake
Hernando Franco:
Christus factus est
Wiliam Byrd:
Ye sacred muses
Miguel Dallo y Lana:
Laudate Dominum
Philip Moore:
O clap your hands*
Nico Muhly:
God will be their light*
American traditional (arr. Mack Wilberg/Nigel Short):
The Dying Soldier
Traditional Spiritual (arr. Paul Hart):
Didn't my Lord deliver Daniel
Traditional English (arr. Timothy Byram-Wigfield):
Dance to your daddy
Traditional English (arr. Alexander L'Estrange):
Early one morning
Traditional English (arr. Ruairi Bowen):
What shall we do with the drunken sailor?
Traditional English (arr. Paul Drayton):
My Lagan love
Traditional English (arr. John Whitworth):
The Mermaid
Irving Berlin (arr. Richard Rodney Bennett):
Blue skies
The Beach Boys (arr. Stephen Carleston):
God only knows
Imogen Heap (arr. Simon Whiteley):
Hide and seek
Michael Jackson (arr. Tim Carleston):
Thriller
Bacharach/Perren/Fekaris/Jabarra/Schaffer (arr. Simon Whiteley):
Say a little prayer to survive when it's raining men
*Brand new commissions to celebrate the Queen's Six's 10
th
Anniversary
https://www.karti.com.mk/etickets/TicketList.aspx?pEventID=2023