Theatre play "Strangers" by Filippo Bologna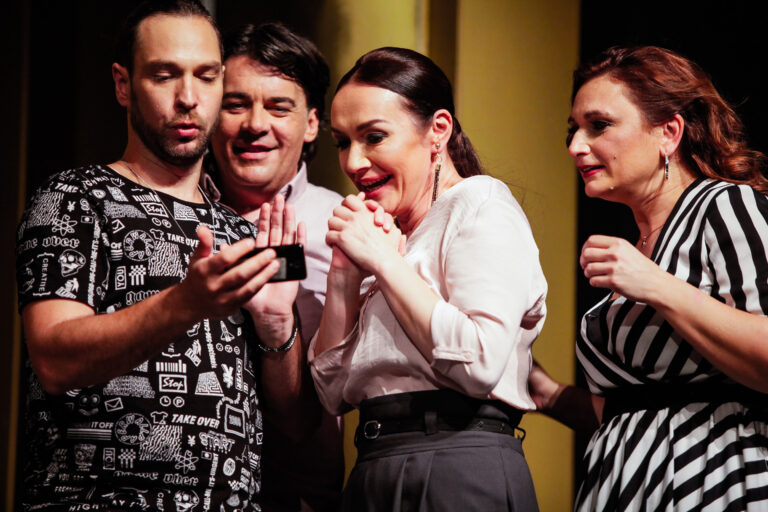 What happens if you secretly peek into another person's phone? Facing the truth solves or opens a new problem. How much the truth about the other directly invades his/her personal space and how much it affects the space of the others? Does facing the truth make us better people? Are mobile phones our "black boxes"!? How much do these "black boxes" alienate us from each other? "Perfect strangers" is a "drama-media" in which seven people play a game where they exchange text messages, conversations, photos, social media in this way exposing private information, opening painful subjects and creating conflict situations. There is a juxtaposition of the private and public presentation of a person. Parallel action creates epic stage narration that grows continuously. All in the name of truth. Facing the truth is followed by post-truth, a state in which facts matter less than one's emotions and personal beliefs. In today's world the role of technology in search of the truth is presented by the leaks of confidential documents on a global level. Is the world a better place with the existence of WikiLeaks? Does facing the truth make us better people?
Nela Vitosevic
graduated from the Faculty of dramatic arts in Skopje in the class of prof. Slobodan Unkovski. In the period 2011-2015 she works as a teacher's assistant at the Faculty of dramatic arts, and her successful stage debut comes with David Mamet's "Sexual Perversity in Chicago" at the Skopje Drama Theater. This is followed by her directing at the Macedonian National theatre and at the Prilep theatre. As a director of the "Dragon's bride" she is awarded the best director award at the "Vojdan Chernodrinski" festival. She is the founder and force behind Wonderland Theatre, an independent theatre project that is a breath of fresh air at the Macedonian theatre stage. For Wonderland Theatre she has produced "The Firm", "5:17" and the "Doll boat" which was awarded the jury prize and prize for best play at the MOT International theatre festival. Nela Vitosevic works at the Macedonian National Theatre.
Dramaturg: Viktorija Rangelova-Petrovska Sets: Konstantin Trpenoski Costumes: Roza Trajceska-Ristovska Music: Ognen Anastasovski
Cast:
Michele: Igor Angelov Eva: Irena Ristic Carlota: Biljana Dragicevic-Projkovska Peppe: Zoran Ljutkov Bianca: Sanja Arsovska Cosimo: Filip Trajkovic Rocco: Predrag Pavlovski
Not recommended for audience under 18 years of age.
https://www.karti.com.mk/etickets/TicketList.aspx?pEventID=2049