Ukrainian night – The diverse extravagance of the musical basket Bozhena Korchynska- Ukrainian chromatic recorder Bohdan Kozhusko- accordion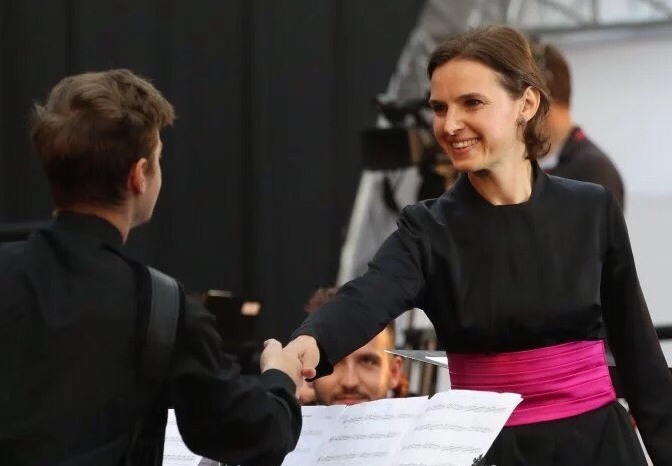 The duo Korchynska- Kozhusko presents an unusual programme entitled "The diverse extravagance of the musical basket" and a rare instrumental pairing of the Ukrainian chromatic recorder also known as
flauto dolce ukrainico
and the accordion. The passionate enthusiasm of the players for exploration of the repertoire and presenting the virtuoso pieces for both the recorder and accordion will challenge the listeners mainly due to the pairing of the two instruments as well as because of the choice of programme which harmonically blends pieces from the baroque era with contemporary pieces of the XX century.
Bozhena Korchynska- Ukrainian chromatic recorder
Bozhena Korchynska is one of the rare virtuoso performers of the Ukrainian chromatic recorder, a proud continuer of the tradition of performing on this instrument founded by her father Miroslav Korchynsky.  She is constantly working with instrument builders to optimize the construction of the instrument and to broaden the repertoire that is performed on the Ukrainian recorder. Since 2000 she is the main organizer of the Open competition for recorder and blokflute players in Ukraine. Korchynska is a graduate of the Lvov Academy of music "M. Lysenko" and has studied baroque music at the Kiev National music academy "P. I. TchaikovskY". In 1998 she was the winner of the international competition of performers on traditional instruments "H. Gotkievich" in Harkow, Ukraine.  Korchynska has her own class at the "M. Lysenko" Academy and is dedicated to the popularization of the Ukrainian chromatic recorder as an artistic, concert instrument through her own concert activity and through the work with her students. In 2017 Korchynska received her PhD Diploma on the subject of the Ukrainian chromatic recorder, first of its kind in the world.
Bohdan Kozhusko- accordion
Bohdan Kozhushko studied at the "M. Lysenko" National Music Academy in Lvov in the class of prof. Yaroslav Oleksiv.
In 2018 he started to study organ in "Haliciana Schola Cantorum". He took part in many musical competitions and festivals, and was winner of many of them, such 1st (2010) and 2nd (2011) prizes in "Provesin" competition (Kirovohrad, Ukraine), 2nd prize of the International Competition Citta de Lanciano (2013, Lanciano, Italy), 1st prize in the Internet Music Competition (2014, Belgrade, Serbia), 1st prize in 7th International Competition "Perpetuum Mobile" (2014, Drohobych, Ukraine)

Was participant of masterclasses of well known harpsichord player Daniela Dolci( Basel,Switzerland), polish organ and cembalo player Marek Toporovski (Warsaw/Katowice), also famous accordionists Klaudiusz Baran( Warsaw) and Maciej Frąckiewicz ( Detmold).
Bohdan Kozhushko plays a lot  of concerts in Ukraine and abroad (Poland, Germany, Lithuania), both as soloist and member of ensemble.
https://www.kupikartizase.com/Events/ukrainska_vecer_2019