Vlatko Stefanovski- guitar; Miroslav Tadic- guitar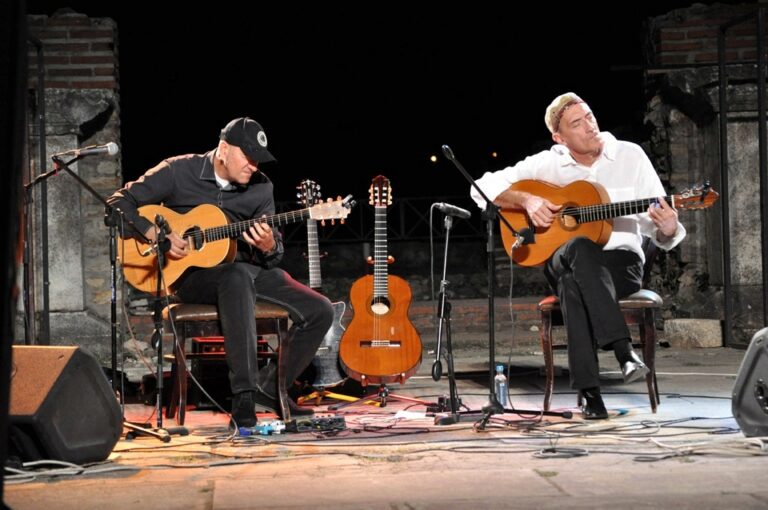 Vlatko Stefanovski- guitar
Vlatko Stefanovski is a macedonian rock, pop and jazz musician, founder of the Vlatko Stefanovski Trio and one of the founding members of the band "Leb i Sol". Together with Bodan Arsovski, Kokan Dimushevski and Dimitar Chuchurovski they form "Leb i Sol", in which Stefanovski is the guitarist, singer, composer and text writer. In the 20 years that the band spent on stage they released 12 albums, one double compilation and created music for theatre, film and TV.  In the 1990's Vlatko Stefanovski embarks on a solo career, and together with Bodan Arsovski they produce the music for the rock-ballet "Zodiac" that was also the first Macedonian CD ever published. In 1994 Vlatko records his first solo album entitled "Cowboys and Indians" and continues to write the music for "Sarajevo" a project meant for the Antwerp theatre written by Goran Stefanovski and directed by Slobodan Unkovski. In 1996 he works on the film music for Stole Popov's film "Gipsy Magic" and the title song from the movie becomes a hit in the Balkan. At the initiative of the first man of the American-japanese publishing house "MA Recordings"- Todd Garfinkle, in 1997  in Krushevo at the Memorial Museum, Vlatko Stefanovski joins forces with guitarist Miroslav Tadic for the album "Krushevo" containing acoustic arrangements of Macedonian traditional songs.  During his long career Vlatko Stefanovski has received numerous awards and prizes including three Golden gramophone awards at the Mesam festival in 1987, the award of the Sterijino pozorje in Novi Sad for the music of the play "The Liberation of Skopje", Yugoslavian stage award for lifetime achievements, the state award "11 October" and an award by the City of Chicago.
Miroslav Tadic- guitar
Miroslav Tadic is a guitar virtuoso and a professor at the prestigious CalArts University in the USA. In the region he is most commonly known as the second half of the duo with the guitarist Vlatko Stefanovski. During the years, the duo has made numerous acoustic arrangements of Macedonian traditional songs and dances and can often play in a trio formation together with the Bulgarian kaval player Teodosii Spasov. The trio has toured Europe playing in prestigious concert halls in Monte Carlo, Leipzig and London. In a project with orchestra they have performed at the Skopje Jazz festival conducted by the world renowned conductor Kristjan Jarvi. One of the most famous project of the duo Stefanovski-Tadic is the album "Krushevo" recorded for MA records two decades ago.
https://www.kupikartizase.com/Events/vlatkostefanovski_miroslavtadik_2019