The music program of the Ohrid Summer Festival continues tonight in the vestibule of  "St. Sophia" church starting at 9 pm where the famous ZZ Quartet will perform.
The musical identity of this quartet reflects and absorbs different musical styles, but one of its most significant features is the individualism and incredible dexterity of its members that can create an intimate or extremely intense musical atmosphere. Although they have a variety of musical compositions that include jazz, modern classics and world music, they collaborate together on original compositions but sometimes create incredible one-time improvisations. Their music blurs the boundaries between noted music and improvisation, creating sound images that, while having some basis, push the boundaries of modern improvised music.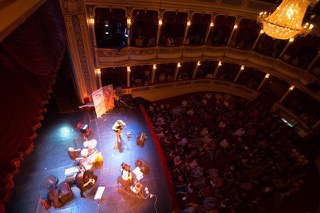 The members of this band are the guitarist Ratko Zjaca, Vid Jamnik on percussion, Martin Gjakonovski – acoustic bass and Joze Zdravec on drums.
Ratko Zjaca is an award-winning guitarist and composer who has made numerous albums with some of the most important artists in the world of jazz and modern improvisation. Considered an innovative musician, Zjaca is also appreciated for his exceptional guitar technique. His personal music style makes him an amazing improviser, and that brings him numerous live collaborations, and recordings with some of the most important jazz musicians of today. In 2019 he received the Award for Achievement, Authorship and Artistic Creation in the field of jazz music awarded by the Association of Croatian Composers.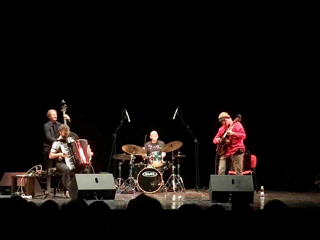 Vid Jamnik was born in Sloven Gradec, Slovenia in 1993 and graduated from the Department of Jazz Studies at the University of Klagenfurt. In 2011/12 he participated in a five-month exchange in the "Erasmus" program, studying at the Jazz Institute in Berlin with David Friedman, and in 2015 he released his first album for Alessa Records. In 2018 he graduated in jazz composition and jazz interpretation with the highest marks of Boston "Berkeley". In recent years he has toured Taiwan several times with the Mizform Project, which plays a specific blend of traditional Taiwanese music and jazz, and has also created a specific project called the Viva Jazz Form, which is a fusion of sounds derived from the percussion of metal sculptures. with jazz, techno and electronic music. He is part of several bands and groups such as: Ratko Zjaca duo and quartet, You've got that swing with Eddie Lewis and Jazz Passengers, Jazz Continuo and others. Vid Jamnik is the exclusive artist of Balter Mallets.
Born into a musical family in Skopje, Martin Gjakonovski was imbued with jazz music by his father, Dragan Gjakonovski-Spato, who is the founder and leader of the Big Band of the Macedonian Radio, and by his mother, who was a jazz vocalist. He began learning classical double bass at the age of 14, but his fascination with jazz soon surfaced and he formed his first band, the Trio Spato. In 1991 he moved to Cologne, Germany where he studied jazz double bass at the academy there, and soon became extremely popular with German and world jazz musicians. His career has taken him around the world with significant collaborations with numerous artists, and he has recorded over 150 albums.
Joze Zdravec studies jazz at the State Conservatory in Klagenfurt, Austria and has an enviable career as an instrumentalist who performs at numerous international festivals with all important Slovenian musicians and bands. He has performed in Switzerland, Austria, Croatia, Serbia, Germany, and participated in workshops led by Gregory Hutchinson, Willie Jones, Billy Hart, Jimmy Cobb, Gary Bartz, Bob Mincer, Armen Donelian, and Don Menza. Since 2017 he has been teaching drums and rhythm at the jazz music department of the Conservatory of Music and Ballet in Maribor.