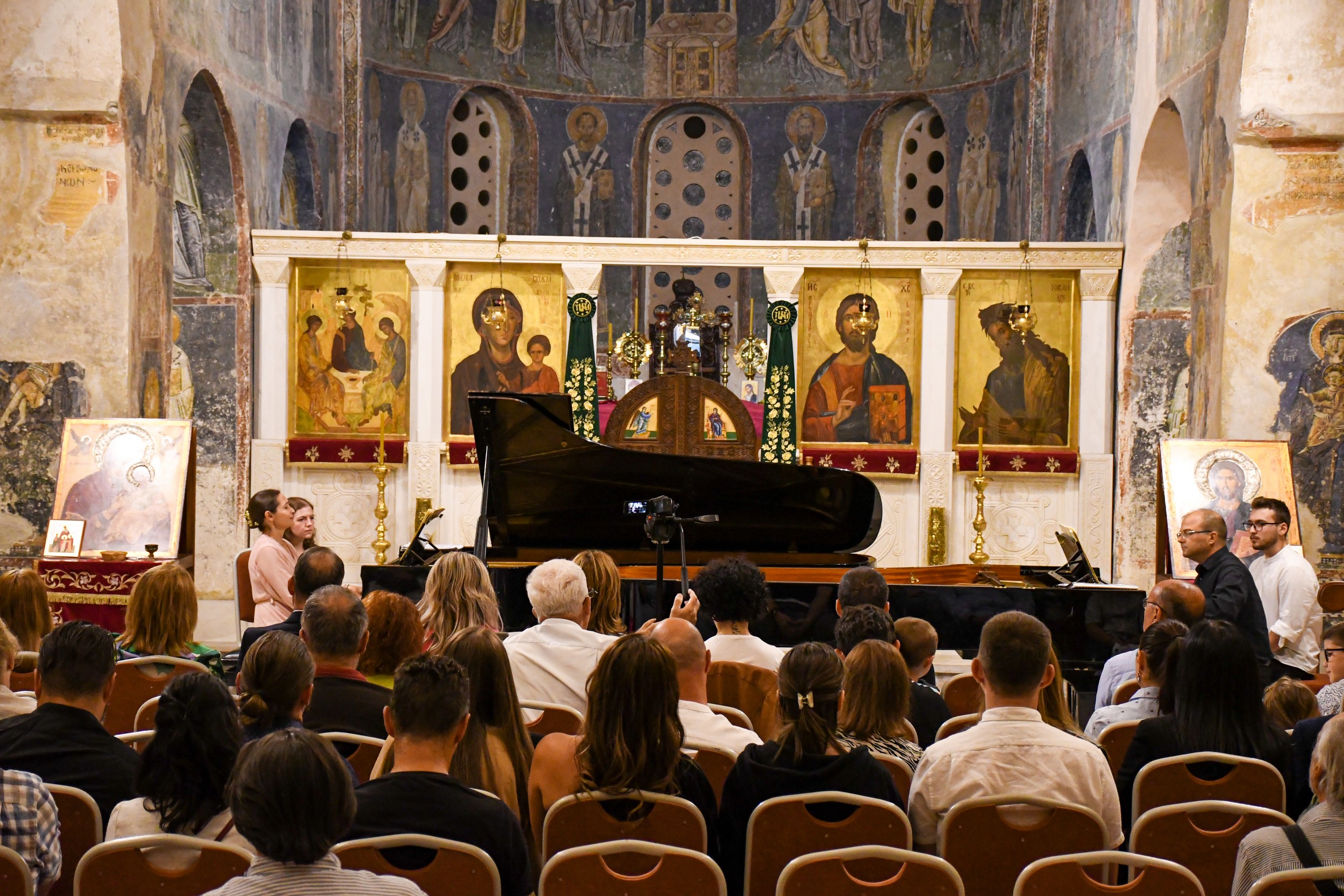 Yesterday evening the "AnAntonio" piano duo made amazing atmosphere with their music at the St Sophia church.
The outstanding artists Ana Josimovska – Cagnazzo and Antonio Cagnazzo, expressing their virtuosity on the piano brought us works by A.S. Arensky, Brahms, Rachmaninoff, as well as a composition by the Macedinian composer Tomislav Zografski.
– My first performance at Ohrid Summer Festival was 19 years ago, as a soloist, and this time I perform in a duo with Antonio. Ohrid is amazing. I follow the Festival programme through social media. I have many friends performing on the Ohrid Summer Festival's concert podiums, -said Ana Josimovska – Cagnazzo, pianist, expressing great gratitude at the invitation to be part of the Festival programme this year.
Both renowned musicians with Macedonian and Italian origins live and work in Ljubljana, Slovenia. Along with their concert carreers, both teach the the Waldorf music school in Ljubljana.
Their repertoire ranges from works for solo, duo and two pianos by Johann Sebastian Bach to pieces by Schedrin and Kurtag. As soloists and chamber musucuans they have won numerous international awards and have performed with the National Philharmonic Orchestra of the Republic of North Macedonia, the Slovenian Philharmonic Orchestra, the orchestra of the Music Academy in Pescara, the Youth orchestra from Martinengo, the orchestra of the International Festival in Chioggia. They have also performed at the Ohrid Summer Festival, at the "Kolarac Hall" in Belgrade, at the National Museum in Sofia, at "Kamerfest" in Prishtina, at the theatre "Paisiello" in Lecce, the hall "Piatti" in Bergamo, at the theatre "Marcello" in Rome, at the Slavic Conservatory in Paris, the "Gothenaum" in Dornach, "Michael Hall" in London, the Music Academy in Oslo etc.