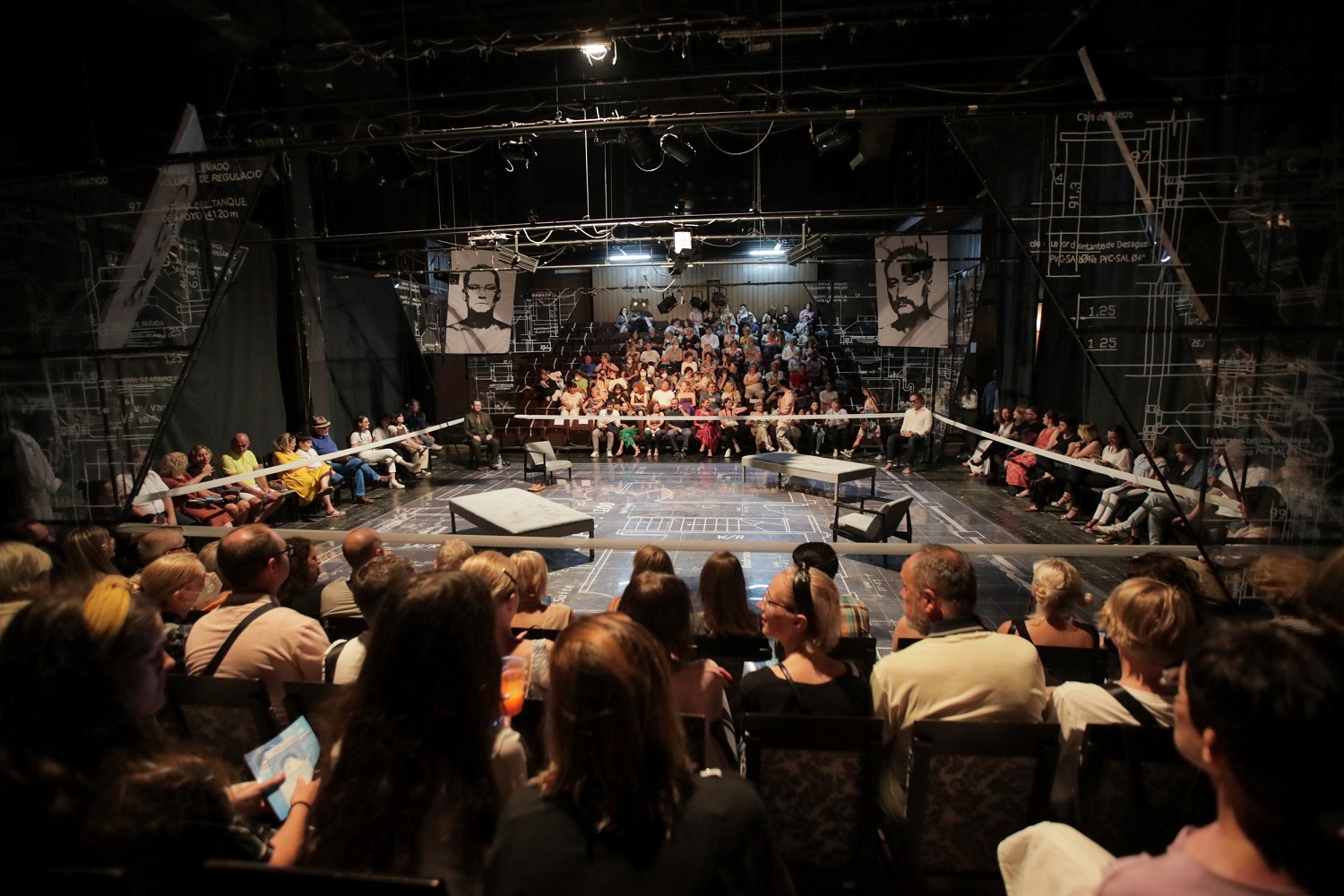 Actors from Bitola National Theatre yesterday evening played an intimate anti-fairy tale, humorous and cruel at the same time, within the Ohrid Summer Festival.
Bringing the theatre play "Demons" written by Lars Noren, directed by Vasil Hristov, the actors Ilina Chorevska, Ognen Drangovski, Marija Stefanovska and Zdravko Stojmirov played as two married couples through which they showed the hidden inner demons existing in humans.
Ilina Chorevska played the character of Catarina, the woman withdrawn in her own world, loving her husband so much that she kills him at the end.
– At the beginning I was sceptic because Scandinavian authors don't usually match my sensibility, but when I read the text, I must admit that I was amazed. It is an authentic text speaking of the times when Lars Noren lived, but also of the time we live in. The text sounds ultra-modern. It is about masculine-feminine relations, the usually unreturned love, hatred towards women…, explains Chorevska.
The Manager of the Bitola National Theatre, Ivan Jerchik, says that the actors from this theatre ensemble always eagerly take part at the Ohrid Summer Festival, but this year they come with a chamber play, different from the one previously played at the Festival.
– "Demons" is an authentic play speaking exactly of our time, and about two young married couples living in the same block of flats, struggling with their own demons. Purely actors' play without much scenography. By the way, besides the approved projects by the Ministry of Culture, we also work on projects financed with our respurces. The capacity has been retrieved to 100%. To my pleasure, the audience has come back to the theatre and somehow we overcame the period of pandemics, adds the Manager Jerchik.
This is the first collaboration between the Bitola National Theatre and the director Vasil Hristov about who the Bitola actors claim he has worked the play as subtly as the author himself.
– This is my first collaboration with the Bitola National Theatre and the Ohrid Summer Festival. Because of the post-pandemics problems the whole process was delayed, but we have completed this with pleasure and I am very satisfied from the collaboration with the Bitola National Theatre and the Ohrid Summer Festival, says the director Hristov.The text of "Demons" was written in 1982 by one of the greatest Swedish drama writers, Lars Noren, and is set here for the first time with the director Hristov and the Bitola National Theatre.