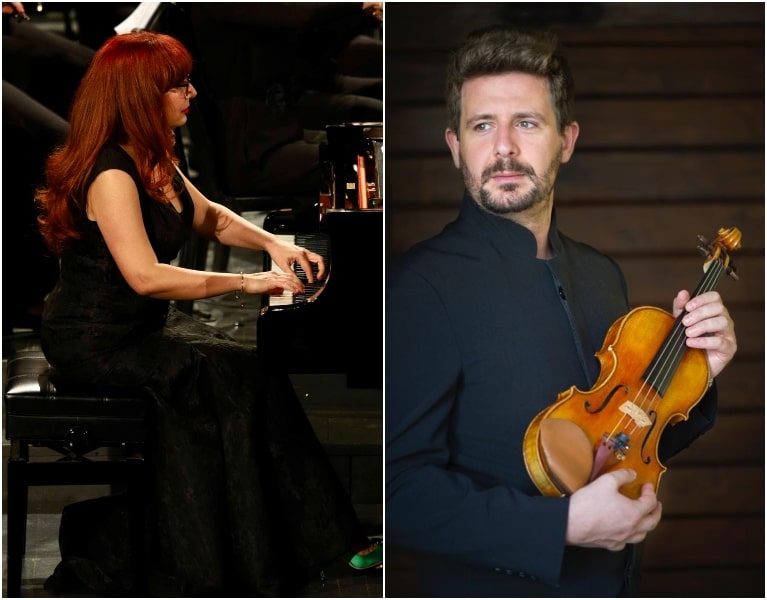 One of the most active Albanian piano players, Merita Rexha – Tershana, together with her colleague, Ermir Abeshi, tonight shall give a concert for the audiences of Ohrid Summer Festival.
The concert will take place at the St Sophia Church at 9 p.m., with repertoire including pieces by Mozart, Beethoven and Brahms.
A Laureate Finalist of the 2012 Queen Elisabeth International Violin Competition in Brussels and Second Prize winner at the 2011 "Lipizer" International Violin Competition in Gorizia (Italy), Ermir Abeshi has performed as a soloist with the National Belgian Orchestra at the prestigious Palais des Beaux-Arts in Brussels conducted by Gilbert Varga, L'Orchestre Royal de Chambre du Wallonie, the Brussels Philharmonic Orchestra at the Conservatoire Royal de Bruxelles, and the Romanian Symphony Orchestras of Bacau and Ploiesti and the Albanian National Radio Television Orchestra. He made his debut at the age of sixteen with the Ghedini Symphony Orchestra under Mark Foster and debuted in the prestigious Jordan Hall in Boston as a soloist with the New England Conservatory Chamber Orchestra. He has also performed as a solo recitalist in some of the most important halls in Europe and has also debuted in the Taipei National Hall in Taiwan. Born in Elbasan in 1987 he begins his studies at age six, moving to Italy at ten where he studies at the conservatory graduating with honors in 2005 under Bruno Pignata and attends the Walter Stauffer Academy in Cremona studying with renowned Italian violinist Salvatore Accardo.
In 2006 he moves to Boston and pursues his Master's and Graduate Diploma degree at the New England Conservatory studying with Boston Symphony Orchestra Concertmaster, Malcolm Lowe. During this time, he also attends summer programs and masterclasses with Ilya Grubert, Pinchas Zuckerman and Grigory Zhislin, studies chamber music with Nicholas Kitchen of the Borromeo String Quartet and Paul Biss, and composition with Michael Gandolfi e John Mallia.
In 2010 Ermir decides to return to Europe to complete his studies under the gudance of Dora Schwarzberg and Natalia Prischepenko. A very active chamber musician, Ermir Abeshi is part of the Spiegel Trio with pianist Zlata Chochieva and cellist Nikolay Shugayev, with whom he has performed in some of the most important halls in Europe including the Concertgebow in Amsterdam, Sala Verdi in Milan and debuting at the Luzern Festival. From 2014 he began working as Concertmaster of the Chzech Philharmonic Orchestra in Prague, with whom he still performs as a guest and the Odense Symphony Orchestra in Denmark. In 2017 he was appointed Concertmaster of the Deutsche Radio Philharmonie, Saarbrucken-Kaiserslautern Orchestra.Widely considered by critics, media and the public as one of the most predominant and active artists in Albanian territories, Merita Rexha Tërshana continues a career long full of national accomplishments. Winner of an impressive number of national awards in particular Performer of the Year at the Contemporary Albanian Music Festival (1996) awarded by a French composer G. Boeuf led jury, Performer of the Year at the Kult Award (2010, 2016) after being nominated for 6 consecutive years. Born in Tirana, she graduated from the University of Arts in Tirana as part of Prof. Margarita Kristidhi's class, she undertakes numerous post-graduate courses in Germany from acclaimed professors like Paul Badura-Skoda and Till Engel. Tërshana has been working at the University of Arts in Tirana since 1994, firstly as accompanist and then being promoted to a pedagogue in 2002.As a soloist she has played along numerous orchestras including that of the Albanian Radio Television (RTSH), University of Arts, Theatre of Opera and Ballet, Philharmonia Orchestra of Tirana and Philharmonia Orchestra of Kosovo under the direction of well-known Albanian and foreign conductors such as B. Llapaj, A. Lepuri, J. Barbullushi, L. Quadrini, N. Marin and D. Savic among others. Additionally, Merita Tërshana has been invited as a soloist to prestigious and renowned chamber music festivals in Albania and Europe, namely Schleswig-Holstein Musik Festival (Germany), Bregenz Festpiel (Austria), Grosseto Musica Festival (Italy) etcetera and numerous festivals in the region. Merita Rexha Tërshana has given premiere performances of a great number of piano pieces from Albanian composers and in 2009 she recorded a CD with Schumman's works and 2 CD's with works from Albanian composers. Among the renowned musicians she has been chamber partner with are: Klaidi Sahatçi, Rudens Turku, Ermir Abeshi, Andrej Bielow, Areta Zhulla, Kristi Gjezi, Tomas Leleu, Premusl Vojta, Loïc Schneider, Roberto Trainini, Saimir Pirgu etc.