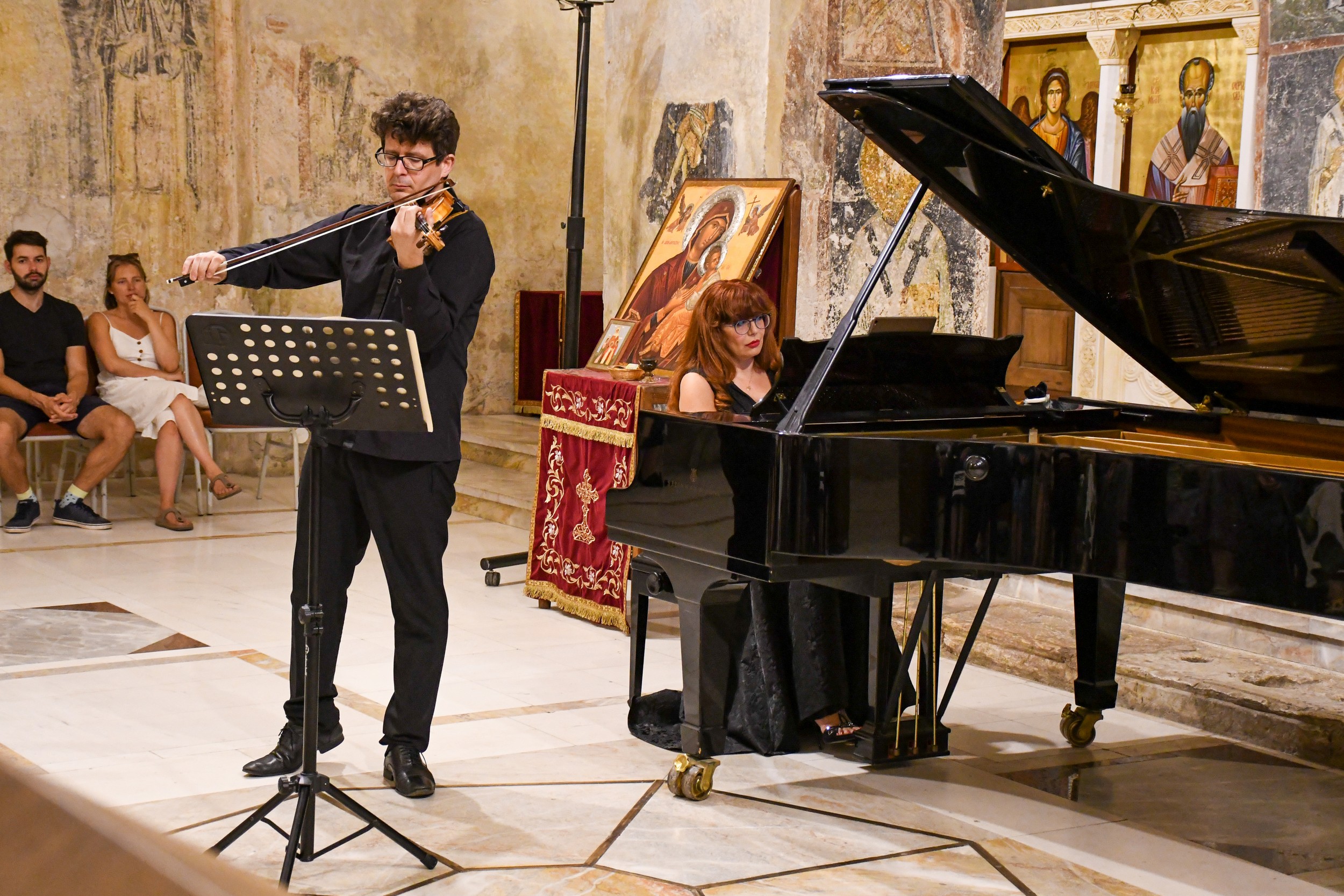 One of the most active and attractive pianists from the Republic of Albania, Merita Rexha Tershana together with her colleague – the violin virtuoso Ermir Abeshi yesterday evening provided an unforgettable music experience for the audience of Ohrid Summer Festival.
The concert in the St Sophia church was a pure celebration for the classical music lovers, and the outstanding artists showed their best on stage performing the Mozart's Sonata No 21 in e minor, the Sonata no.3 op. 108 in d minor by Brahms, as well as the famous Beethoven's sonata "Kreutzer".
– It is an utmost pleasure to me to perform at the Festival again. This year I performed together with my dear colleague and outstanding violinist Ermir Abeshi, with who I had amazing time. I hope that the audience enjoyed as much as we did, said the pianist Merita Rexha Tershana.
This is the second time the violinist Abeshi performs at Ohrid Summer Festival, after his concert at the Festival ten years ago.
– I am very happy to be here again. We have performed many times with Merita, on many concerts and recitals in Albania. It is my honour to play with her because she is an amazing piano player. The church's acoustics is brilliant as well as the historical architecture, creating magical atmosphere. It is our great pleasure to perform here, in front of this audience because they are very hospitable and warm people. Whenever you contact us, we are eager to come back on this stage, – said Abeshi, who tomorrow give another concert together in Albania. In 2017 the violinist Abeshi was appointed Concertmaster of the Deutsche Radio Philharmonie, Saarbrucken-Kaiserslautern Orchestra. He was a Laureate Finalist of the 2012 Queen Elisabeth International Violin Competition in Brussels and Second Prize winner at the 2011 "Lipizer" International Violin Competition in Gorizia in Italy. He performs as soloist with numerous orchestras in Europe and worldwide.
Widely considered by critics, media and the public as one of the most predominant and active artists in Albanian territories, Merita Rexha Tërshana continues a career long full of national and international accomplishments.