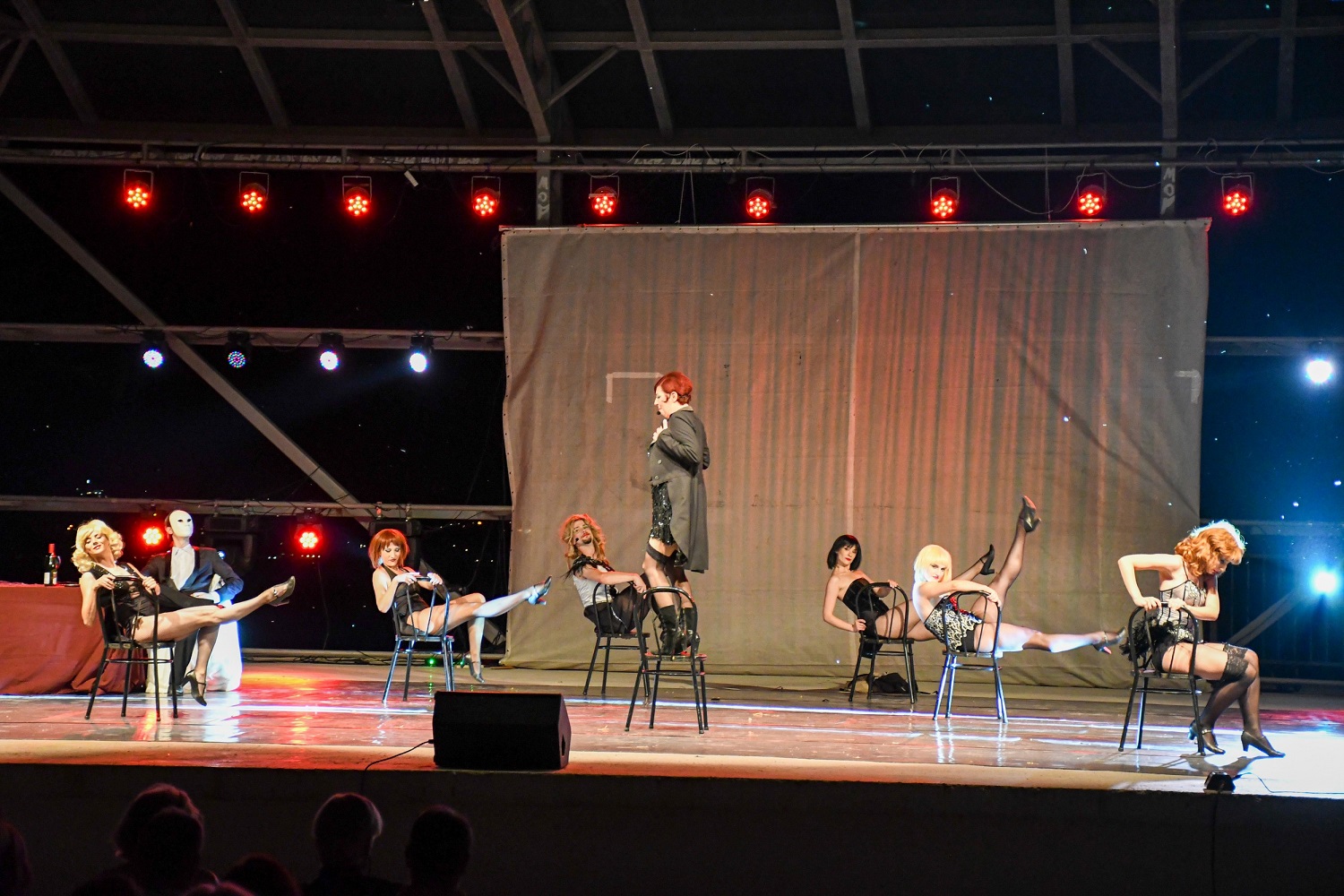 Yesterday evening the cabaret "Life is…" by Natasha Poplavska brought music performance enjoyment at Ohrid Summer Festival.
The new story written by Risto Vrtev, directed and visualised on stage by Poplavska, was played on the stage Dolni Saray, where the outstanding visual artists, video designer Dejan Matikj and light designer Milcho Aleksandrov took part and created magic on stage together with Poplavska, the costume designer Olga Pango, the ballet soloists from the National Ballet Orchestra and the famous jazz artist Marija Dimitrijevikj.
Through the life story of the cabaret star Sally Bowles (Marija Dimitrijevikj), the scenes from the once-famous Berlin "Kit Kat Cabaret Club", the audience had the opportunity to attent the "transformation of life in the today's corporative and virtual reality".
-We are witnessing times when old values are disappearing and we are creating new ones. In that time gap, the newly created aren't yet recognized as values. Through the prism of that wide social context we see the story of Sally and her existential drama where she had to reject her own child in order to survive. The story is told through the melodies of the famous musical "Cabaret", and the music of "Kraftwerk", the harbingers of the times we live in, says the director Poplavska.
Poplavska's background includes two more successful musicals: "Chicago" and "Mamma Mia".
– I hope that this new cabaret's, "Life is…" was enjoyed by the audience with the recognizable songs and in a fun way told them a story which bears the challenges of the modern life, here and now. It is about a project I have been working on with Risto Vrtev, speaking of the disappearing of world as we know and the transition towards a new civilisation context. I made this project with my association for art and cultural development, "Art Media" and the National Opera and Ballet, supported by the Ministry of Culture, explains the director.Natasha Poplavska is a rare creative artist, and besides musicals attracting huge attention, she has directed many theatre and ballet performances.