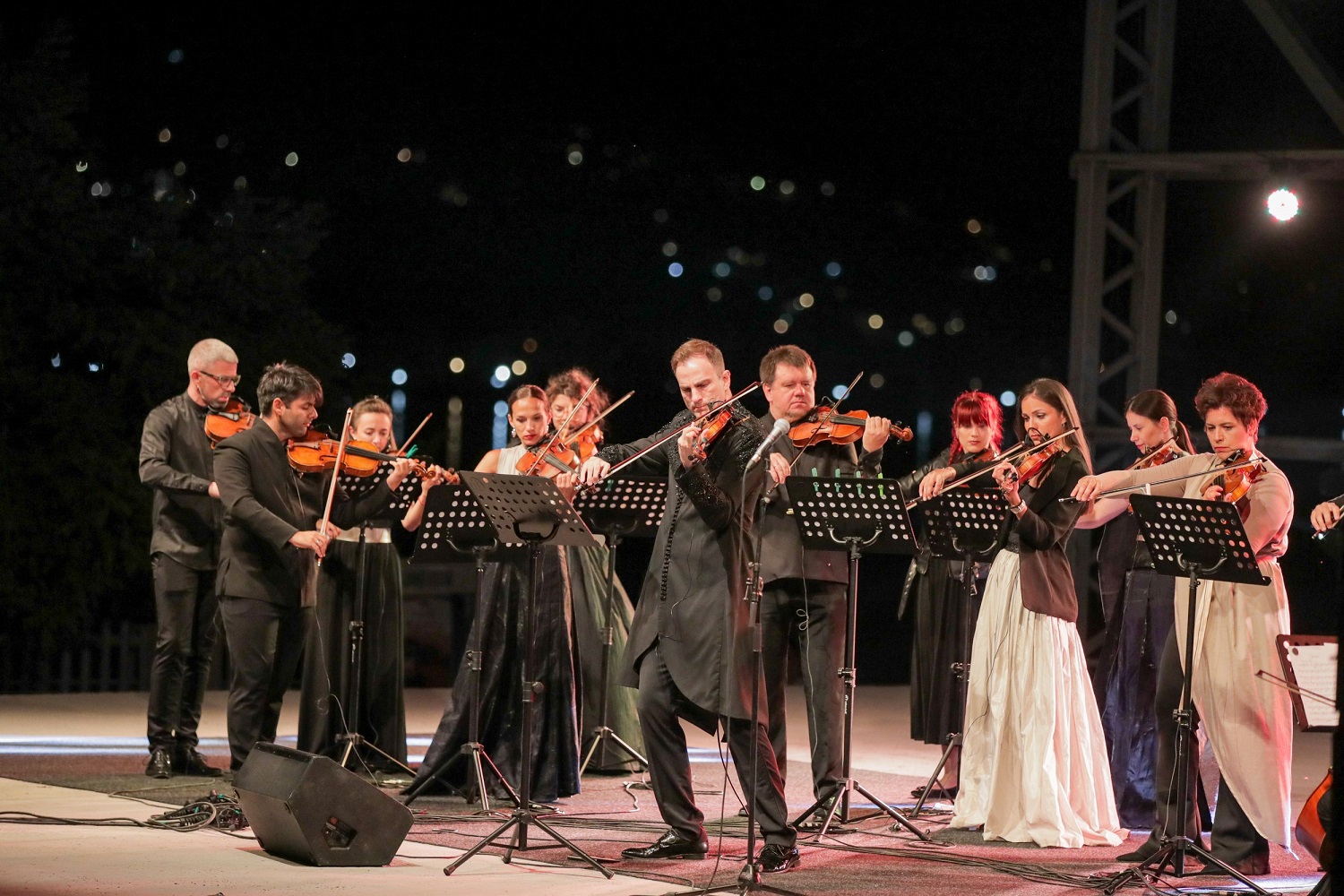 Each Stefan Milenkovikj's visit to Ohrid at Ohrid Summer Festival is experienced as a celebration by his numerous fans in Macedonia. Following the rich archive of the Festival, we can notice that this performance is a small jubilee – his 10th concert on Ohrid Summer Festival.
The story of Stefan Milenkovikj and Ohrid is a love at first sight, starting back in 1987, when he, as a 10-yeal-old boy, dressed in a white tailcoat, stars in his eyes, with unusual-for-his-age virtuoso violin performances, ruffled the spirits and moved forwards the boundaris of the expectation. Through the years, his relationship with the audience continues, more unforgettable and well-prepared concerts follow where we heard Tartini, Brahms, Kreisler, Paganini, Saraste… Accompanied by his mother, the refined pianist Lidia Caenazzo, Milenkovikj had concerts around Europe and worldwide, and we were lucky to attend him in the unique acoustics of the St Sophia Church. Since that age, besides his classical repertoire, Stefan Milenkovikj has showed tendencies to play popular pieces of various genre, jazz, pop, and with a special zest, violin arrangements of well-known Serbial folk songs and dances, which used to capture audiences, bedazzled by his genius and emotional maturity.
It is a huge challenge for an artist to obtain the epithet 'wunderkind' since very young age. Those who have pushed the limits of human talents and felt the beauty and the burden this epithet brings, know it very well. Undoubtedly, Stefan Milenkovikj is one of them. Following his rich artistic career, we can note that he, exiting the phase of 'wunderkind', upgraded his untamed creativity and directed towards shaping a unique music profile in constant search and finding new music creations and ideas. This unusual path embraces collaboration with topmost artists, masters of their instruments and genres, but also desire to play everything fitting the lucid taste of the artist. Isaac Perlman, Yehudi Menuhin, Placido Domingo, Lorin Maazel, Alexis Weissenberg, but also Edin Karamazov, Vlatko Stefanovski, the recent 'combination' with Nele Karajlikj from the cult Yugoslavian band "Zabranjeno pushenje" are inspiration and paths our favourite violinist goes through.
In this context we will see the project Stefan Milenkovikj presented at Ohrid Summer Festival this year, together with his fine company – chamber ensemble "Camerata Novi Sad". The performance began with a press-conference on the terrace of the hotel Inex Olgica, as an introduction to the concert, where we heard a relaxed, but in the same time interesting exposure of the idea about the conception of the project "Carmina Burana". We will comment briefly, an artist of relentless spirit as Stefan Milenkovikj is simply made to move the boundaries leading to progress in music and art in general. "Carmina Burana" was written for a robust orchestra ensemble with two choirs, is set on a stage with energetic ballet choreography and by all parameters tends to set mega impression at audiences. So, to reach such effect, especially in those whose head bears an already-made image and experience, with one soloist on violin and fifteen string musicians, you need outstanding courage, extraordinary suggestive performance, but also a pinch of craze! So yes, Stefan Milenkovikj doesn't lack any of this.
With euphoria welcoming a real "super star" and obvious excitement, the audience in Dolni Saray was full to the last place.
As an introduction to the central composition, we heard three incredibly different-by-genre pieces, which additionally highlight the artist's thirst for uniqueness. The three Gershwin's (blues) Preludes, arranged for violin and string orchestra were an homage of its kind that Stefan Milenkovikj spends the most essential part of his education at the New York's Julliard School, or "crème de la crème" in America. Afterwards followed Astor Piazzola with his rebellious incarnation of the Argentinian tango in a unique harmony with the "fiersome" intensity of the "Summer" by Vivaldi, masterly arranged for string musicians by the contemporary Russian composer Leonid Desyatnikov, in an inspirational 'dance' interpretation by Milenkovikj and "Camerata Novi Sad" – a strong eclectic explosion of themes, characters and expressions. And, above all this, the famous "Bohemian Rhapsody" by Freddie Mercury. There is always a danger for such a variety and tendency to experiment to break the limits of good taste for somebody. But, this won't happen when the idea and realization is done by Stefan Milenkovikj.
And finally, "Carmina Burana". The eternally famous Cantata which made the name Carl Orff immortal. It is a unique piece bursting all principles "key" for the western classical music. The form is unimportant here, the polyphony and harmony aspects are almost bare, Orff simply playing with the power of rhythm, expressive dynamics and the exciting middle-age text celebrating life in its primordial shape is what has been making this composition unique since its first performance in 1937. The ensemble of young energetic musicians at the Dolni Saray Stage, under the sovereign leadership of Stefan Milenkovikj brought us a new, fresh interpretation of the dominant vocal 'veil' of the Cantata, persuading us that each brave try in music can be successful if the creators are talented, but also well-educated. We should highlight here that behind the successful paraphrase of "Carmina Burana" and the micro version for string orchestra, there is a skillfully made arrangement by the young Serbian composer Ana Krstajikj.
Besides that, we should not forget at any point that the top of the whole eclectic art creation we heard at Dolni Saray there is an absolute interpretative superiority or playing violin with special elements of a relic.
In the evening full of new discoveries, Stefan Milenkovikj showed that he is not only master on violin, but he can also poetically reveal us his thoughts and strives in art: "…What about us, the artists? A tight chamber formation, full freedom and giving in to the moment in interpretation, immense energy horizons… I am fully convinced that we on stage, embracing this monumental piece, go back to the primal, intimate and direct version of these melodies played, recited and sung in the Middle Ages in small groups Goliards – full of energy, satire and rebelliousness, but also love and immense desire for life…"
An extraordinarily warm and emotional interpretation of the leading violin melancholic theme from the film "Schindler's List" was the first encore – gift for the audience. And at the end, as the last piece and finale of the Serbian Evening at Ohrid Summer Festival, we heard the virtuous Serbian "Pashona Kolo".
Great artists undoubtedly make the humane side of the world.
With one more note we will add that it is very important when great art has deserved support by the social community. Stefan Milenkovikj's concert at Ohrid Summer Festival was supported by the Embassy of the Republic of Serbia in North Macedonia, and the event was attended and greeted with an emotional address in Macedonian Language by the Minister of Foreign Affairs of Serbia, Mr. Nikola Selakovikj.
Vikica Kostoska Peneva