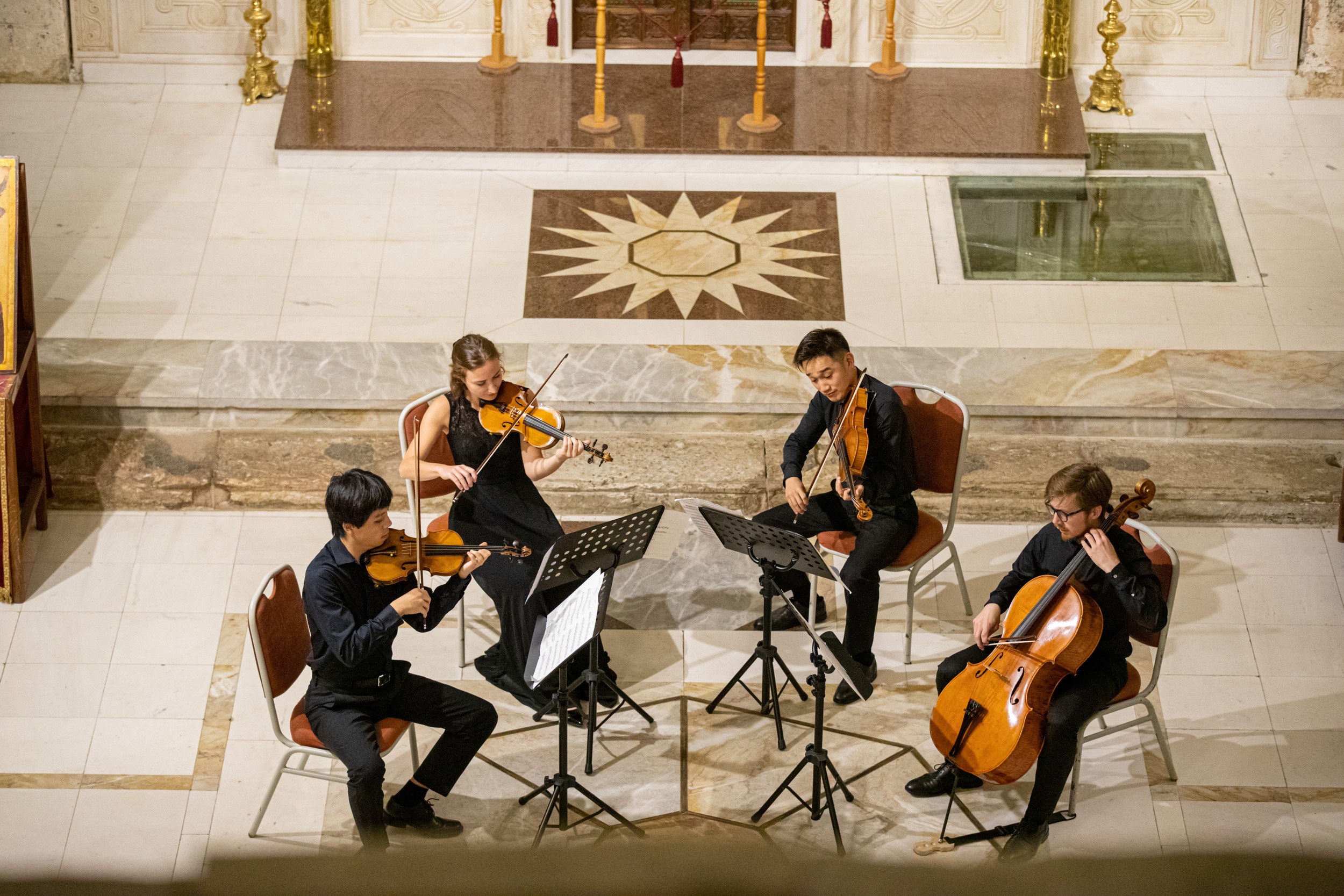 Yesterday evening the audience at Ohrid Summer Festival enjoyed the amazing concert made by one of the most prospective quartets of the new generation – "Simply quartet", which once again proved its great reputation on the world chamber music scene.
In this quite young, international ensemble (the violinists Danfeng Shen and Antonia Rankensberger, Xiang Liu on viola and the cellist Ivan Valentin Hollut Roald) come from China, Norway and Austria.
The Simply Quartet is continuously searching for a deep understanding of the inherent language of music: from the early classical works to modern string quartet literature. They place great emphasis on combining the three contrasting cultures upon which they draw their inspiration to develop a musical language of their own; by exploring works from each of their cultures, they deepen their knowledge of different sound worlds.
– It was fantastic to play here in this church, before this amazing audience. We are really happy. The four of us have played in this ensemble for 4 years already. We feel very connected as a group, and I can even say that we consider ourselves as a family, said the cellist Ivan Valentin Hollup Roald.
– The acoustics is unbelievable. Much different from the rehearsal due to the presence of the audience and the fullness of the hall, added the violinist Antonia Rankensberger.
Originally founded in Shanghai under the auspices of Jensen Horn-Sin Lam, the quartet moved to Vienna to intensively explore the essence and origins of quartet playing – at the Joseph Haydn Institute of the University of Music and Performing Arts Vienna, the ensemble studies with Johannes Meissl, who has become the ensemble's most important mentor since the move to Austria. They have won numerous first prizes at significant international competitions.In the 2021/2022 season, the Simply Quartet will be one of the selected ensembles of the ECHO Rising Stars series with concerts at BOZAR Brussels, the Festspielhaus Baden Baden and the Concertgebouw Amsterdam, among others.