Concert of 4 pianos BACH FOR YOU Chamber orchestra "Czech virtuosi" (Czech Republic)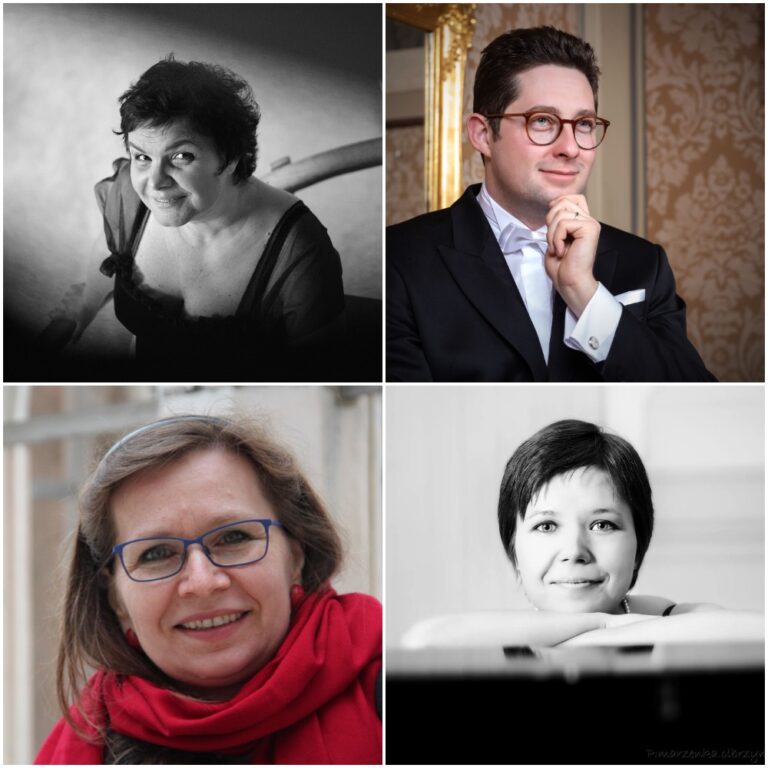 Programme:
S. Bach: Concerto for piano and Basso  Continuo in A major BWV 1055
– Allegro – Larghetto – Allegro ma non tanto Piano: Helena Weiser J.S.Bach: Concerto for two pianos and Basso Continuo in c minor BWV 1060 – Allegro – Largo ovvero Adagio – Allegro Piano: Sára Medková Ema Jedlička Gogova -Intermission- J.S.Bach: Concerto for three pianos in d minor BWV 1063 – Without tempo indication – Alla Siciliana – Allegro Piano: Lukáš Klánský Ema Jedlička Gogova Sára Medková J.S.Bach: Concerto for four pianos in a minor BWV 1065 – Without tempo indication – Largo – Allegro Piano: Ema Jedlička Gogova, Sára Medková, Helena Weiser, Lukáš Klánský
Ema Jedlička Gogova
is a passionate educator, an international and methodic pianist, creative director and musician. She started playing the piano in her home town Shtip, and her professional solo debut was with the Macedonian Philharmonic Orchetra performing Grieg's Piano Concerto at the age of sixteen. Shortly thereafter, her first recitals followed and her musical career took off leavingbehind her focus in biochemistry. She studied at FMU in Skopje with professor Stella Slejanska and at JAMU in Brno under the leadership of professor Zdeněk Hnát. Her career has taken her to more then fifteen countries in Europe and in Canada, as a soloist and chamber musician, also with the Macedonian Philharmonic Orchestra, Symphonic Orchestra of Silesian Theatre in Opava, National Theatre in Brno, Moravian Philharmonic Orchestra Olomouc and others. She is the Artistic Director and Chairwoman of Association Intercultural Creative Life (ICL) in Brno and she is a member of the Board of the J. S. Bach Foundation. Furtheremore, she is a regularly invited juror at International Music Comptitions (e.g. International Bach Competition in Dobřany, Czech Republic, where she took the place as a president).
Helena Suchárová Weiser
was prepared for her professional career at the Prague Conservatory and in the class of  Ivan Klánský at the Academy of Performing Arts in Prague. She completed her studies with a residency at Roosevelt University in Chicago, and also attended master classes by Malcolm Frager in Lucerne. She was already enjoying success and had garnered prizes at many competitions while still a student. Up to this day she has given performances not only in her Czech homeland, but also in Germany, where she lived until 2003, and in Poland, Finland, Great Britain, Switzerland, France, Greece and countries of the former Yugoslavia, as well as in the USA. Besides her solo performances, Helena Suchárová Weiser is active in various kinds of chamber societies. She has performed and recorded a CD with the Stamitz Quartet, Vlach Quartet Prague, Wihan Quartet, clarinetists Christof Reiff or Vlach Weiser Piano Quartet (Ad libitum). She is regularly invited to the jury of several czech and international piano competitions. In 2019 she became director of the unique and prestigious piano competition Prague Junior Note, a competition for young pianists at the age of 5 to 15. Since 2012 she is a piano teacher at Janáček Academy of Music and Performing Arts in Brno and last four years at Academy of Performing Arts in Prague as well.
Sára Medková
is one of the leading Czech young pianists. She performed at prestigious stages in more than twenty European countries in the US, Asia and Africa, and premiered about 100 new compositions. She was awarded many prizes from international competitions and she performs as a soloist with noteworthy orchestras of both Czech and international acclaim. In 2009 and 2010 she initiated a unique project of triple concertos for three pianos by J. S. Bach, W. A. Mozart and her own triple concerto "Di Ritorno" in cooperation with the Brno Philharmonic Orchestra and Prague's Academic Chamber Soloists. In 2012 she has received her master degree of piano at the Academy of Music in Prague. As an Erasmus student she spent one year at the University of Musik Carl Maria von Weber in Dresden with A. Zenzipér. She attended international masterclasses under the leadership of Lazar Berman, Eliso Virsaladze, Daniel Pollack, Andrei Gavrilov etc.. Her debut CD "De Profundis" was released by Arta records label in 2017.
Lukáš Klánský
is one of the most promising Czech pianists of the younger generation. As a winner of numerous competitions he has become a sought after soloist and chamber music player. He is a member of the succesful Lobkowicz Trio which won the International Johannes Brahms Competition in Pörtschach, Austria, in  2014.   He won the second prize at the Hans von Bülow International Competition 2018 in the conducting from piano category. At the age of fifteen he made his debut in the Dvorak Hall in Prague with the Prague Chamber Orchestra. Lukáš Klánský performs with leading Czech orchestras under the baton of conductors such as Libor Pešek, Andrea Sebastian Weiser, Gundi Emilsson or Istvan Denes.  He has performed at renowned festivals in the Czech Republic, in Italy, Germany, Greece, Switzerland etc. He graduated from the Prague Conservatoire in the class of Eva Boguniová, and finished his studies at the Academy of Performing Arts, where he studied with his father, Ivan Klánský. His countless concert performances have served to introduce  himself to audiences in many countries.  In addition to the Czech Republic he is known in Slovakia, Hungary, Germany, Austria, France, Italy, Belgium, the Netherlands, Croatia, Slovenia, Greece, Poland, Turkey, USA and South Africa. His recordings are available on the Praga Digitals, Radioservis, Gramola and Naxos labels. Lukáš Klánský is also a conductor and gives concerts conducting Mozart and Beethoven Piano concerti from the piano. He studied conducting with Professor Leos Svarovsky.
Chamber orchestra Czech Virtuosi
Chamber orchestra Czech Virtuosi under the artistic leadership of Karel Procházka began its concert career more than twenty years ago. Since than they played about 800 concerts presenting pieces of world masters of symphonic, spiritual and opera music, from the Baroque to the present days. However, with many concert in Vienna, for example in Konzerthaus or Schönbrunn, the domain of Czech Virtuosi remains the work of W. A. Mozart. Each year Czech Virtuosi receive many invitations to international festivals for example in Netherlands, Italy or Spain. Well-appreciated was also the participation in the Czech Music Festival in Dijon, France, in 2015. The orchestra has done three concert tours in Japan in 2003, 2010 and 2011. Members of the orchestra are the concertmasters and soloists of Orchestra of the Janáček Opera and Brno Philharmonic Orchestra. They have collaborated with Czech and foreign artists such as violinist Esther Yoo or vocalists Milagros Poblador and Nathalia Ushakova and many established Czech conductrs.  Performances of Czech Virtuosi are also available on CDs. Their latest CD is a collaboration with the Belgian conductor Eric Lederhandler.