Marija Gjoshevska-piano, Macedonia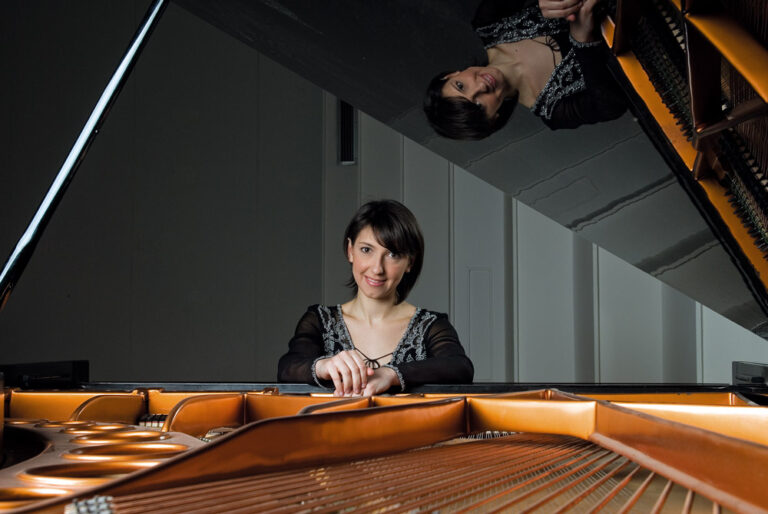 Programme:
Chopin: Valse op. 18 Es-dur
Valses op.34 no. 1 As-dur no. 2a-moll and no.3 F-dur
Chopin: Nocturne op. 15 no. 2 Fis – dur
Nocturne op. 37 no. 2 G – dur -Intermission-
Manchev: Sonata for piano (dedicated to prof. Snezhana Anastasova-Chadikovska)
–Allegro
–Andante -Theme with five variations
–Allegro
Ravel: Valses nobles and sentimentales
I     
Modere-tres franc
II    
Assez lent- avec une expression intense
III   
Modere
IV 
Assez anime
V 
Presque lent -dansun sentiment intime
VI 
Assezvif
VII 
Moinsvif
VIII 
Epilogue: lent
Chopin: Heroic polonaise op. 53 As-dur
Marija Gjoshevska is one of the most prominent and active pianists in Republic of Macedonia. Gjoshevska fascinates with her refined and sensitive technique, which results in exceptional stage expression. She started studying piano in her home town Negotino with prof. Kamelija Kulavkova, and graduated from the Music High School "Ilija Nikolovski – Luj" in the class of prof. Snezana Anastasova – Chadikovska. She then continued her studies at the Faculty of Music in Skopje where she graduated, mastered and received her PhD in the class of the prominent professor Boris Romanov. She has been awarded numerous awards and recognitions at state and international competitions in the Czech Republic, Italy and France. She has performed recitals at prominent international festivals such as Ohrid and Skopje Summer Festivals, Heraclea Nights and in a several countries in USA and Europe: New York, England, France, Italy, Austria, Poland, the Czech Republic, Turkey, Croatia, Bulgaria and others. She regularly performs with as a soloist with the Macedonian Philharmonic Orchestra, as well as with Dubrovnik Symphony Orchestra, the Chamber Orchestra of Jeunesses Musicales Macedonia and the Festival Orchestra of Ohrid Summer Festival, making collaborations with conductors such as Cristoph Campestrini, Anton Nanut, Leonid Nikolaev, Patrick Strub, Yuriy Aliev, Arild Remmereit, Sasha Nikolovski – Gjumar, Borjan Canev and others. Marija Gjoshevska has confirmed superiority in her performance by actively participating as piano accompanist and chamber musician. She is member of the trio "VAM" along with Vladimir Kostov – violin and Aleksandar Kotevski – cello, as well as one part of the piano – duo with Elena Atanasovska. From 2009 to 2011 she was invited to take part at European Project named "Piano – reflection of the European Culture" which took place in five countries: France, Austria, Poland, Moldova and Macedonia. In 2016, she won the prestigious National award "Virtuosi" for the best musician-performer in Macedonia. In 2018 she receives prestigious National award "Golden Lyre" from the Association of Music Artist of Macedonia for outstanding artistic achievements Marija Gjoshevska is a professor at the Piano Department and Chief of third cycle – doctoral studies at the UKIM Faculty of Music in Skopje, member of the Association of Music Artist of Macedonia and Association of Music Pedagogues of Macedonia.