World famous harp master virtuoso Emanuel Sayson will perform at the Ohrid Summer Festival tonight. The program includes works by Bach, Sopor, Rennie, Debussy, Faure and Salcedo.
Harper Emanuel Seyson was born in 1984 in France. He studied the harp at the Conservatoire in Lyon, and later at the Paris Conservatory in the Isabelle Moretti class. Since 2005, he has been leading his successful career in some of the most prestigious concert halls such as Wigmore Hall in London, Gaucho's Salon in Paris, Carnegie Hall in New York, Concerthouse in Vienna, Berlin Philharmonic Hall and many others. In 2004, Seyson won the gold medal at the International Harp's Championship in Bloomington, USA, where she received the special award for best performance.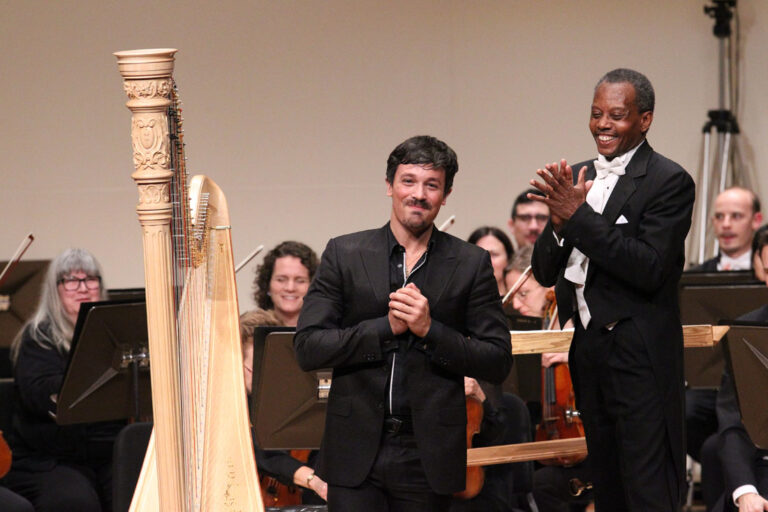 He won the first prize and six special awards at auditions for young musicians in New York in 2006, and in 2009 won the prestigious "ARD" in Munich. In 2010, he was nominated in the category "Best Instrumentalist" at the Victoris de la Musique Classique in France, and in 2011 he was awarded the Career Development Prize by the French Institute of Arts.
In the period from 2006 to 2015, Emanuel is a solo-harpist in the orchestra of the Paris National Opera. He is a regular guest at the festival in Cartagena (Colombia), holds master classes in Nice and is the main lecturer in the Master course supported by the Salvi Foundation. Currently, Emmanuel Seyson is a solo-harpist at the Metropolitan Opera in New York and teaches the harp at the "Mens" Music School.
The concert will be held in the church "St. Sophia", starting at 8:30 pm
.