The voice of the world-famous Albanian opera singer Inva Mula filled the church "St. Sophia" last night. Mula's concert was part of the Ohrid Summer Festival program.
Performing together with her colleagues from Albania, pianist Genc Tukici and violinist Olen Cesari, she performed works by A. Piazzolla, J. Puccini, F. Pulank, Sh. Aznavour, V.Para, A.Kachinari and P.Jakova.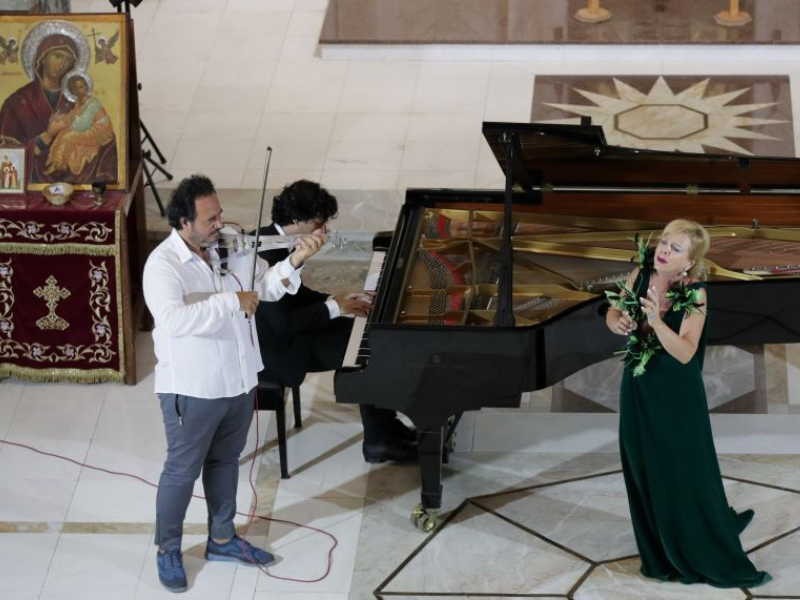 -For last night's repertoire I wanted to make a mixture of classical music, together with my friends in a trio with whom we traveled the world. We wanted to present ourselves here, in front of the festival audience in Ohrid, said soprano Mula.
Mula last performed at the Ohrid Summer Festival two years ago with soprano Deshira Ahmeti and Gjorgji Cuckovski, accompanied by her colleague Tukici.
– I am not here for the first time, but still the honor is huge that I perform in this magical place. I am sure that many other artists have performed and will perform in this magical church where the energy is indescribable. "Especially this festival is one of the most important in Europe because it is quite old and I am sure that in the future great artists will be guests," said Mula.
Inva Mula is considered one of the most important sopranos of today. Born in Tirana, she started learning piano at the age of five and singing at the age of 16, first with her mother and then at the University of Arts in Tirana, where she graduated.
For Inva Mula, Violetta's role in "La Traviata" is a kind of artistic "signature", so she repeats it in Vienna, London, Milan, Tokyo, Nice, Berlin, Paris, Madrid, etc. Her stage partners are some of the most famous tenors of our time such as: Roberto Alanya, Jose Cura, Placido Domingo, Vittorio Grigolo, and collaborates with conductors such as Michel Plason, Georges Prether, Jesus Lopez Kobos, Vladimir Spivakov, Zubyun Meung Wong.
An important moment in her career is that she is part of the movie "The Fifth Element" by Luke Besson, where she lends her voice to the Wild "Blue Lagoon". This project brings her international fame beyond the circle of strict opera fans.